K.C. Brooks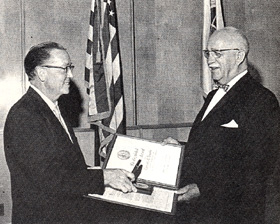 U.S. AEC Commissioner James T. Ramey (left) presents award to Kennedy C. Brooks
Kennedy C. Brooks has received the U.S. Atomic Energy Commission's Distinguished Service Award -- the highest honor the AEC can give to any employee.
Brooks, who is known as "Casey" by his many friends, is the Area Manager for the AEC's NAL facility office located in the NAL Village.
He received the award at a presentation ceremony Tuesday, July 28, in Washington, D.C.
AEC Commissioner James T. Ramey presented the award to Brooks. The Distinguished Service Award consists of a gold medal, a certificate and a citation.
In presenting the award, Commissioner Ramey cited Mr. Brooks for his contribution to the construction and operation of the AEC's Gaseous Diffusion Plant at Paducah, Kentucky; for spearheading, within the AEC, the development of construction cost estimating techniques and capabilities; and for his firm and effective leadership in the on-going construction of the world's largest high-energy accelerator at the NAL site.
A Government employee for 35 years, Brooks first joined the AEC construction program as engineer in Oak Ridge, Tennessee, where he was involved in construction of the Oak Ridge National Laboratory.
Late in 1950, he was transferred to Paducah, Kentucky, where AEC was beginning construction on its second gaseous diffusion plant. Now valued at approximately $800 million, this plant is one of only three such facilities built in the United States for the production of enriched uranium.
Brooks later served as Area Manager for the Paducah Gaseous Diffusion Plant until 1962, when he was promoted to Assistant Director for Construction and Engineering at AEC Headquarters in Washington, D.C.
In July 1968, Brooks moved to the AEC's NAL Project Office as Area Manager.
"The AEC considers this a most important project," Brooks said, "and I am happy to be a direct part of it."
Glenn T. Seaborg, Chairman, U.S. Atomic Energy Commission also spoke at the ceremony. Among others in attendance were Professor Norman Ramsey, President, Universities Research Association, Inc. and Bradley Bennett, Vice-President, URA.
A letter sent by Robert R. Wilson, NAL Director, to Dr. Seaborg on the eve of the award was read in part at the ceremony. The letter, dated July 16, said:
Dear Glenn:


"The good news that the Atomic Energy Commission is going to present its Distinguished Service Award to K.C. Brooks on July 27th has just reached me. I cannot tell you how pleased I am. I have commented to you and others privately about all of the help we have received from K.C. Let me repeat some of these comments more formally."


"K.C. has made, and is making, a tremendous contribution to this project. He has thoroughly understood our problems. It would doubtless have been easy for someone in his position to do a good job by being reasonably cooperative with us in a somewhat bureaucratic way. In such a case, we would have expressed our gratitude for such cooperation and for the fact that there had not been roadblocks put in our way. In contrast to this K.C. Brooks has not only foreseen possible difficulties, but he has helped solve our problems, not just those that we might have created ourselves but those related to the general problem of creating a laboratory in a new location. He has used imagination and initiative and has inspired his co-workers and staff to do likewise. We have been able to communicate with his office in such a way that we receive necessary Commission approvals in what we consider to be record time."


"I have been claiming that we should be able to have an accelerated beam of protons as much as a year before the time originally scheduled. This would not have been possible were it not for the assistance given by K.C. Brooks. I am proud to have him as a co-worker on this project and as a very good friend."


Sincerely,
Robert R. Wilson

Brooks and his wife Imogene have two sons, Kennedy A. and Andrew L. They live in Wheaton, Illinois.
Source: The Village Crier Vol. 2 No. 32, August 13, 1970