Human Rights
Additional Information on Human Rights:
---
June 22, 1967
Telegram to:
Dr. Martin Luther King
Southern Christian Leadership Conference
334 Auburn Avenue N. E.
Atlanta, Georgia
with copy to:
Southern Christian Leadership Conference
366 East 47th Street
Chicago. Illinois
We scientists now designing the 200 BeV accelerator to be located at Weston strongly support the struggle for open housing in Illinois. Science has always progressed only through the free contribution of people of all races and creeds. This is no less true today in America, and the full success of this laboratory will depend on achieving conditions in Illinois which will allow any scientist, regardless of race or creed, to participate in this important project - a project which will contribute to a truly great intellectual and cultural heritage in Illinois. We join you in wanting to attain these great ends.
Signed: Robert Rathbun Wilson
Director, National Accelerator Laboratory
---
NATIONAL ACCELERATOR LABORATORY
1301 West 22nd Street
Oak Brook, Illinois 60521
June 23, 1967
The Honorable Otto Kerner
The Governor of illinois
Springfield, Illinois
Dear Sir:
It was indeed an honor and a pleasure to meet you at Argonne National Laboratory when you addressed the physicists who are to build and use the 200 BeV accelerator at Weston, Illinois. As Director of the National Accelerator Laboratory I am deeply disappointed and worried about the future of the project because of the failure, so far, of the State of llinois to adopt any significant open housing legislation. The purpose of this letter is to acquaint you with the kind of difficulty that this is causing the project at a technical rather than at a political level.
As you may know, an initial staff of the National Accelerator Laboratory has established temporary headquarters at Oak Brook near Chicago. We are just starting the exciting but difficult task of designing the machine to be built at Weston. But this task is being made exceedingly difficult because of the rejection of open housing legislation. We are having great difficulty in attracting physicists to Illinois. This arises in part because the physicists themselves represent a wide variety of racial origins. Many of them, although welcome themselves in the area, feel that they would lose the respect of physicists elsewhere in moving to an area where some of their very respected friends and colleagues might be rejected. This is not an imaginary difficulty--I have already been turned down a number of times by people who have given the uncertainty due to this racial problem as their principal reason for not coming. Of course, the very real danger that the accelerator may not be authorized by Congress this year because Illinois has not implemented open housing is another reason that makes it almost impossible for a family man to decide to leave his present position.
On the assumption that the project will he authorized without open housing legislation, there will still remain difficulties. Both by conviction and by legal requirement, the Laboratory will have a strong Equal Opportunity Policy in employment. As Laboratory Director I am concerned for the welfare and housing of all the Laboratory employees regardless of race or color. Failure in this respect will have ramifications in establishing a successful Laboratory.
In accepting the position of Director of the Laboratory, I had made the assumption that the State of Illinois, in seeking this project, had made a decision to attract outstanding scientists to this state. I assumed that there existed an understanding of the value of such men in helping to establish in Illinois a climate of creativity and of intellectual excellence- -and furthermore, an understanding that such a climate tends to infect other disciplines in a manner so as to broaden the cultural satisfaction of the people of the state as well as to stimulate sophisticated technological activity. In view of recent developments those of us who have come to Illinois cannot feel that a very high value has, in fact, been placed on these objectives.
Illinois fought vigorously to be chosen as the site for this exciting new Laboratory. Even worse than not being chosen, would be to win the site but to have the project fail to achieve its potential, for this would jeopardize the placement of future projects of this kind in Illinois. For these reasons, and as one committed to this project as well as to Illinois, I most sincerely hope that the State of Illinois will take rapid action to alleviate the open housing situation.
Very truly yours,
Robert Rathbun Wilson
Director, National Accelerator Laboratory
RRW :jl
bc: Mr. Eugene Graves, 222 S. College, Springfield, Ill.
The Hon. W. Russell Arrington, State Senate, Springfield, ill
POLICY STATEMENT ON HUMAN RIGHTS
The following Policy Statement on Human Rights was issued March 15, 1968, by Robert Rathbun Wilson, director, National Accelerator Laboratory, and Edwin L. Goldwasser, deputy director:
* * *
It will be the policy of the National Accelerator Laboratory to seek the achievement of its scientific goals within a framework of equal employment opportunity and of a deep dedication to the fundamental tenets of human rights and dignity.
We have seen the creation of NAL near Chicago in a year of social tension and urban unrest, and we have observed the destiny of our Laboratory to be linked to the long history of neglect of the problems of minority groups. We intend that the formation of the Laboratory shall be a positive force in the progress toward open housing in the vicinity of the Laboratory site. We intend that it shall also make a real contribution toward providing employment opportunities for minority groups. For this, the principle of equal opportunity is not enough. Special opportunity must be provided to the educationally deprived if they are to be able to exploit their inherent potential to contribute to, and to benefit from, the development of our Laboratory. This is a matter of personal conviction as well as of practical necessity. We expect to create conditions for special opportunity by adopting aggressive employment practices and by instituting special educational and apprentice training programs.
Prejudice has no place in the pursuit of knowledge. Perhaps this is why most scientists are sensitive to discrimination in any form. The National Accelerator Laboratory is in a position to attract to its program some of the greatest physicists, not only of this country but of other nations as well. Thus the Laboratory will be, in a very real sense, one of the windows through which the United States will be viewed by the rest of the world. Foreign visitors, laymen as well as scientists, will come to the Laboratory for short periods of time to observe, and for extended periods to participate in our work. These men will come from varied backgrounds with a variety of beliefs. It is essential that the Laboratory provide an environment in which both its staff and its visitors can live and work with pride and dignity.
In any conflict between technical expediency and human rights, we shall stand firmly on the side of human rights. This stand is taken because of, rather than in spite of, a dedication to science. However, such a conflict should never arise. Our support of the rights of members of minority groups in our Laboratory and in its environs is inextricably intertwined with our goal of creating a new center of technical and scientific excellence. The latter cannot be achieved unless we are successful in the former.
In 1968, when the Laboratory undertook to draw up a laboratory policy statement on human rights, we were moved by our concern for the rights and dignity of all human beings. The statement predated any federal requirement for an Affirmative Action Plan. It was a forerunner of what has since become a requirement that must be met by all federal contractors.
When the policy statement was written, the nation was just awakening to the need for special action to attempt to compensate for generations of cultural isolation and educational deprivation of some minority groups by taking aggressive and affirmative action to provide opportunities for them.
As the years have passed, the nation has become increasingly aware of another area requiring special attention. Women, in many cases, have been deprived of job opportunities because of biases in our society and in our culture. Biases confronting women have been somewhat different from those minorities face, but also have serious effect; careers have been artificially limited by cultural and social constraints.
Our original policy statement on human rights was, and is, addressed to the broad problem of rights for all human beings. It is the spirit of this policy that there should be no discrimination based on sex, race, color, religion or national origin. The Laboratory will make special efforts to avoid and to correct inequities in employment opportunities and practices.
NAL
April 2, 1974
by Jo Gustafson
Beacon-News
Staff Writer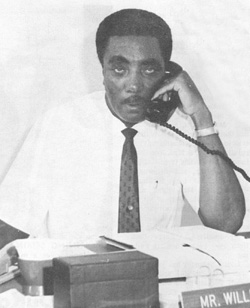 Kennard R. Williams
The title of the man at the desk reads "Equal Opportunity and Community Relations officer for the National Accelerator Laboratory."
Kennard R. Williams, the man behind the desk, doesn't wear this title with formality. He has managed to take over a job that deals with the controversial topic of the times-human relations with a simple kind of philosophy and dedication that could really shake up the present exponents of "protest and demonstration" techniques.
The National Accelerator Laboratory (NAL) is where the atomic accelerator will be built. Williams feels that there can be much more built than "just an accelerator."
"If we don't accomplish more than that," he says, "we have missed the boat.
"The money for this project, which will be spent one way or another, can be put into the hands of many people who need to know how important they are to the growth and development of this country.
"Everybody goes around in circles about the subjects of rights, minority groups and human relations," says Williams, who has the feeling that if anyone can tangibly help solve some of these problems, it will be industry.
With this in mind, part of Williams' job is to encourage NAL and AEC people to give advance notice of their needs for construction so that he and his staff can search for qualified small businesses and industries that may have been part of the big picture of discrimination in any way and offer them a chance to participate in this project.
So, the man behind the desk is not behind that desk very much. His operations take him all over the country.
While he's turning the building of the accelerator into the building of people too, his job takes him many places.
"Even though we search for minority contractors with the thought of promoting good human relations, we do keep good business in mind too so we can keep costs within reason for this project," says Williams.
"When we find these people we request bids for their work, and, if in some cases they don't receive contracts, due to high bidding, which is natural in the case of many small contractors, we go over their contracts to help them understand details in, good prices in the submission of bids. We continue to request and encourage them to bid competitively on NAL contracts.
"At this time we are engaged in canvassing the whole country in search of these minority manufacturers. We visit their plants, discuss their providing materials and services for the NAL and they in turn visit the NAL site. Members of these minority companies discuss potential contracts with our engineering staff while they are here and have been briefed on submission of bids with our purchasing administrative section.
''We have to open some doors for the people who have been victims of discrimination in many forms. They need a chance to grow with dignity, develop their talents and become important people not only in their own eyes but in the eyes of others in the worlds of business, science and industry.
"You just have to `say it like it is.' While we are building an atomic accelerator we have a chance to think of more than just that. If we don't give more than `construction and completion' to this project we've missed an opportunity to do something about this human relations bit and it could do a lot for the future problems that we face."
The NAL official policy states; "In any conflict between technical expediency and human rights we shall stand firmly on the side of human rights. This stand is taken because of, rather than in spite of, a dedication to science.
"Because of this type of dedication," says Williams, "we could not conceive not using the building of the 200 BEV to help develop new, and assist established minority contractors."
(Reprinted with permission from the January 12, 1969 Edition of the Aurora Beacon-News.)
Source: The Village Crier Vol. 1 No. 2, April, 1969