Ben Lee Conference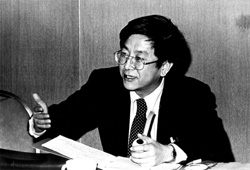 Benjamin W. Lee
Over 500 scientists from around the world are expected to attend a conference at Fermilab Oct. 20-22, 1977. For the first time, physicists working in two frontier areas of science--particle physics and cosmology -- will unite to explore the relationship of the universe to inner space of the atom.
The "Ben Lee Memorial International Conference on Parity Nonconservation, Weak Neutral Currents and Gauge Theories" will be held in the Auditorium. The meeting is dedicated to the late Dr. Benjamin W. Lee, Fermilab Theory Department head killed in an auto accident June 16. Dr. Lee was one of the original organizers of the conference.
A memorial address is set for 5 p.m. on Thursday, Oct. 20, opening day of the session. Dr. C.N. Yang, a 1957 Nobel Prize winner and a former colleague of Dr. Lee at the State University of New York-Stonybrook, will speak.
R.R. Wilson, Fermilab director, will welcome researchers at 9 a.m. on opening day to launch the assembly. Among speakers on 33 topics to be presented are Fermilab experimenters A.K. Mann of the University of Pennsylvania and Leon Lederman from Columbia University.
David Cline, University of Wisconsin physics professor and a colliding beam studies experimenter at the Laboratory, is conference chairman. "We are bringing together an outstanding group of people to lend a lot of good thinking to this meeting," he said.
"This is a conference whose time has come. Two years ago this conference would not have been possible; two years from now it might not be necessary."
He added, "Right now we need to bring the best thinking together from several disciplines to see what we have in common. Many of us who have arranged the conference think there will be some surprises!"
He said visiting scientists will explore the possibility that new discoveries and theories in particle physics might parallel current findings in astrophysics. A conjectural bond between particle physics, atomic physics, nuclear physics and astrophysics will be the meeting's theme.
A startling series of discoveries in the last three years has focused physicists' attention on the first 1/100th second after creation in the "big bang" -- an immense explosion, estimated at more than 10 billion years ago, that created the universe.
The "big bang" theory is the common interest that unites particle physicists and astrophysicists.
The cosmic connection moved from speculation to a solid field of study with the discovery of tiny pieces of the atom dubbed "quarks." Scientists discovered that quarks are building blocks of the protons and neutrons that make up the atom's nucleus. With the discovery came a deeper understanding of forces that create and transform the tiny bits of matter.
The main question scientists ask is: Why do these particles possess the particular weights that they exhibit? Most physicists suspect that the solution to this riddle lies in that first 1/100 second of creation. To make further progress, particle physicists are enlisting the aid of the cosmologists.
In return, the cosmologists can expect benefits. The weights of quarks, it is believed, are the fossil record of an earlier stage of the "big bang" than previously estimated. Until recently, the earliest fossil record of the big bang went back to about the fourth minute... when the universe's supply of hydrogen and helium were formed. Abundances of the gases are leading clues to conditions in the universe at that time.
Cosmologists also worry about less dramatic explosions, called "supernovas," that mark the death of stars. Some exotic forces being studied by particle physicists are believed to play a major role in these explosions.
The conference also commemorates the 20th anniversary of a major scientific discovery, "parity violation." This means that atoms, as well as larger objects, make a distinction between right and left symmetry. It is now believed that this distinction has its roots in the same process that fixed the weights of quarks.
Two opening-day sessions will explore weak neutral currents in particle physics and parity violation. Leaders in research in both of these fields will appear on the program. On Friday, Oct. 21, Madame C.S. Wu of Columbia University will head a discussion of non-conservation of parity at the level of the nucleus. Samuel Ting, 1976 Nobel laureate, will lead the session, "Search for New Particles Beyond Charm."
Also on Friday, M.A. Ruderman, Columbia University, will chair a discussion of weak interactions in astrophysics. A participant is expected to be Cambridge University's Stephen Hawking, originator of dramatic theories about black holes in outer space.
The conference will close Saturday with a summary session by selected outstanding theorists. They will be: Maurice Goldhaber, Brookhaven National Laboratory; David Politzer, Caltech; Frank Wilczek, Princeton University; Sheldon Glashow and Steven Weinberg, Harvard University; Abdus Salam, International Centre for Theoretical Physics, Trieste; and James Bjorken, Stanford Linear Accelerator Center.
Official proceedings of the conference will be published in early 1978.
The conference is the second international proceeding to be held here in Fermilab's 10-year history. High-energy physics topics were explored in the Laboratory's first world wide meeting held in 1972.
Source: The Village Crier Vol. 9 No. 40, October 13, 1977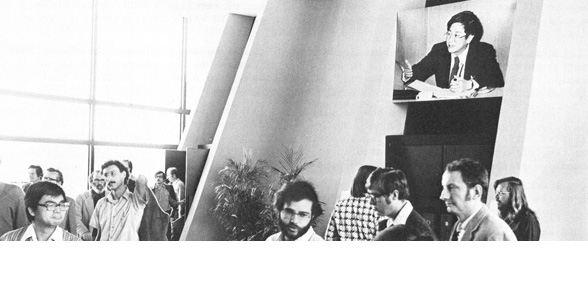 Fermilab conferees under shadow of memory of the late Dr. Ben Lee
We gave a conference last week . . . and over 600 scientists from around the world came.
Ultimate questions about the nature of matter were debated. The "Ben Lee Memorial International Conference on Parity Nonconservation, Weak Neutral Currents and Gauge Theories" honored the late Fermilab Theory Department Head killed in a June auto accident. The three-day meeting brought together physicists and cosmologists--researchers attempting to unravel the infinitesimal of the atom and the infinite of the universe.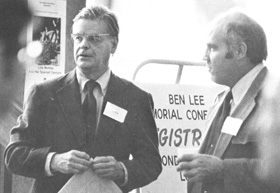 W. Wallenmeyer (R), DOE, meets Fermilab Director R. R. Wilson
About 550 persons registered, with another 100 occasional observers estimated. Canadian representatives (23) led foreign visitors from 16 countries. They included: Australia, Canada, France, East Germany, Italy, Japan, Korea, Mexico, the Netherlands, Nigeria, Sweden, Switzerland, West Germany, United Kingdom, U.S.S.R., and Yugoslavia.
Closer to home, 29 states were represented. Illinois residents (150) out-numbered all others, with 60 New Yorkers heading out-of-state participants. Some 59 Fermilab staff/users attended.
Held Thursday through Saturday, the conference attracted three Nobel physics laureates. They were: Murray Gell-Mann, California Institute of Technology; Samuel C.C. Ting, Massachusetts Institute of Technology; and Chen Ning Yang, State University of New York-Stony Brook.
Conference chairman was David Cline, Laboratory colliding beam studies experimenter and a University of Wisconsin physics professor. "Outstanding physicists from several disciplines were assembled for a short, intense conference," he said.
"It was called to discuss the present status of experimental data in particle physics, nuclear physics, atomic physics and astrophysics. The conference also honored the discovery of parity nonconservation--left and right 'handedness' in all molecules--20 years ago."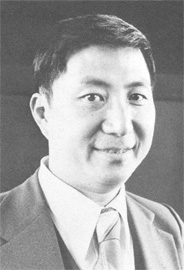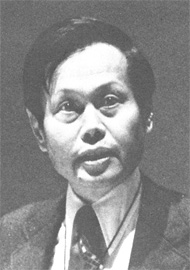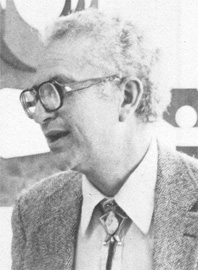 L-R Nobel Laureates/Conferees are S. Ting, C. N. Yang and M. Gell-Mann
"Weak neutral currents, discovered four years ago at CERN and Fermilab, appear to form a significant link in evidence for unified theories of the weak and electromagnetic interaction. For this reason, there was a strong focus on experiments that relate to the weak interaction," he said.
Dr. Cline summarized the conference by saying, "There were debates; advocates and opposition. Evidence presented seemed to indicate that the gauge principle is almost certainly a fundamental theory of nature."
The conference also revealed, Dr. Cline said, remarkable progress apparently being made in all areas of experimental physics, "The power of Fermilab's machine was shown," he said. "It is joining the world's great laboratories in being extraordinarily productive."
He said two important sessions focused on particle physics. In one, the theory that neutral currents could play a role in explosion of supernovae was advanced. A second session touched on a "flavor explosion," discoveries of new subatomic particles that have yielded results apparently consistent with gauge theories.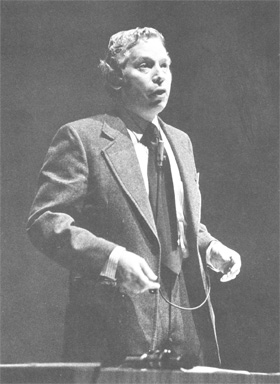 S. Weinberg, Harvard, summarizes conference at closing session
"A real commemoration" was 'how he termed the tributes paid the late Benjamin W. Lee, who helped organize the conference. Speakers offered anecdotes, statements or other creative words in memoriam. During the opening day, Dr. C. N. (Frank) Yang, a close associate of Dr. Lee, offered a eulogy (reprinted in this Village Crier). The audience stood for a moment of silence at the conclusion of the service.
A special section in the conference proceedings, to be published next year, will chronicle conference testimonials to Dr. Lee.
Professor Martin Perl of the Stanford Linear Accelerator reported on his discovery of a new lepton, a subatomic particle dubbed "Tau." At a news conference, he said that there may be many more leptons than the five identified, and that more will be discovered.
Summarizing the conference, Steven Weinberg of Harvard told reporters, "We're now trying to develop fundamental theories and, at the same time, sort out a lot of things that we're finding in experiments.
"The pattern will not be like the periodic table (of elements); it will emerge, but not in an orderly way. A certain point has been passed," he said, "because of the successes, and there are dozens of phenomena that have been seen."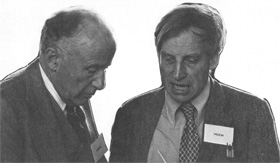 J. Wheeler (L), U. of Texas, and R. Wilson, Harvard, talk during break
Nobel Laureate Dr. Samuel Ting termed the conference "exceptional" in an interview with reporters. He said work being done at Fermilab in discovering new particles is impressive. His personal studies, underway at CERN, are concentrating on the search for new quarks. Dr. Ting shared the 1976 Nobel Prize for discovery of the Psi/J particle, called the most exciting link in a chain of discoveries confirming the "new physics."
John Wheeler, formerly of Princeton University and now of the University of Texas, spoke on the "cosmic connection" between subatomic particles and the infinite universe. Recently he has been concentrating on reconciling two central ideas of 20th century physics: the quantum theory and general relativity.
| | | |
| --- | --- | --- |
| | | |
| R. March (second from left), U. of Wis., and F. Reines, U. of Cal.-Irvine, meet the press | C.G. McDaniel Assoc. Press | A. Snider Chicago Daily News |
| | | |
| --- | --- | --- |
| A.Salam | L. Lederman | M. Perl |
| H. Faissner | W.A. Fowler | F. Reines |
| C. Barnes | F. Wilczek on stage | W. Bardeen (R), Fermilab theorist, talks with M. Gell-Mann |
Source: The Village Crier Vol. 9 No. 42, October 28, 1977



Given at Fermilab
Conference on Parity Nonconservation, Weak Neutral
Currents and Gauge Theories
October 20, 1977
C. N. Yang
Benjamin W. Lee was born in 1935 and died earlier this year at the age of 42. He had published more than one hundred research papers in theoretical physics in his lifetime.
The discipline of theoretical physics has as its principal aim the formulation of theoretical descriptions of the physical world which are concise and comprehensive. Its history has taught us that it is a glorious enterprise. It has produced, for understanding the subtle, complex and often confusing manifestations of nature, theoretical descriptions of unimagined accuracy. It utilizes, and helps to originate and to develop, mathematical concepts of the greatest beauty and depth.
Because nature is subtle and complex, the pursuit of theoretical physics requires bold and enthusiastic ventures into the muddy waters at the frontiers of newly discovered phenomena. Because the concepts used are beautiful and deep, the pursuit of theoretical physics requires appreciation of and insight into the structural aspects of the theoretical apparatus.
Ben Lee's work was characterized by his ability to excel in both of these requirements. His paper with Gaillard and Rosner in the Reviews of Modern Physics completed before the discovery of J/ψ , was remarkable to read at the time and even more remarkable to read now, after the experimental discovery of charm. His work on the renormalizability of gauge theories is among the very important works on the fundamental structure of theoretical physics in recent years. We know that few contributions in theoretical physics remain noticeable after ten years. Fewer after twenty. I venture to guess that the renormalizability of gauge fields will remain important fifty years from now.
We at Stony Brook were fortunate to have had Ben in our midst for many years. He was stimulating as a physicist, cooperative and generous as a colleague and friend. He had the admirable quality of always balancing enthusiasm with good judgement and restraint. Many of us, and I in particular, had profited from many, many enjoyable discussions with him.
Ben's death occurred at the peak of his career as a physicist. He was exuberant and full of ideas about what is in store for our field. Let me quote from a speech he made last January at the Chicago Meeting of the American Physical Society, when Steve Weinberg was awarded the Heineman prize:
"Do we understand, or hope to understand, weak interactions as well as, say electrodynamics, in the present framework? Perhaps. We have yet to come to grips with CP violation and ultrahigh energy behaviors of weak interactions, on which subjects I have a few remarks to make. But I am more optimistic than ever that we are on the right track, and I can say that Steve has earned the honor bestowed on him today."
Ben's untimely death was a great loss to his family and his friends. It was a great loss to Fermilab. It was a great loss to the science of physics.
Source: The Village Crier Vol. 9 No. 42, October 28, 1977
Additional links: