The Lederman Years, 1979 - 1989 - Distinguished Visitors and Special Events
Return to 1979 - 1989

15th Anniversary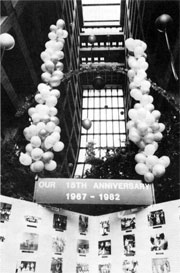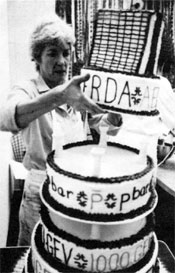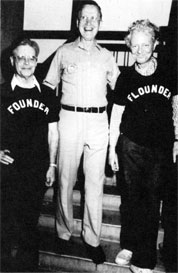 Balloon Launch by the Fermilab Children's Center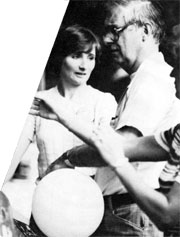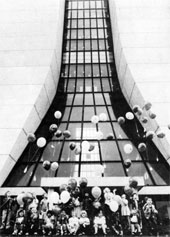 We are celebrating the 15th Birthday of Fremi National Accelerator Laboratory.
Please help us celebrate by writing us a note telling us who you are and where you found our balloon.
The Children's center Nursery School
June 18, 1982
June 18, 1982
The Children's Center
MS 348
P.O. Box 500
Fermilab
Batavia, Illinois 60510

TO WHOM IT MAY CONCERN:
We found one of your balloons about 15 miles north of St. Joseph, Michigan on Lake Michigan in the Wildness Dunes Subdivision at 3:00 p.m. (Michigan time) Friday, June 18

HAPPY BIRTHDAY!!!!!


David P. Fister
Broker
FESTER real estate
Source: FermiNews special, July 8, 1982
The two-day Fermilab Annual Users Meeting was held April 22 and 23, 1983, and attracted 370 participants. It was the 15th meeting of this group that boasts 1100 members and has between 600 and 700 active experimenters at Fermilab at any given time.
Director Leon Lederman told the assemblage that 91 teams from 60 institutions took data in 21 experiments at Fermilab in 1982. At the same time, Lederman deplored the average of four years it takes between presenting a proposal to do an experiment at Fermilab and its completion. His plea to the user community was, "We must do better."
One of the highlights of the meeting was J.D. "BJ" Bjorken's presentation of Fermilab's plans for a Dedicated Collider (old idea of a Fermilab site filler) that could be in operation before 1990 if the idea were to be endorsed by Woods Hole and HEPAP and if the necessary funding were available from DOE. It is proposed that Fermilab build a proton-antiproton superconducting storage ring to reach 4-5 TeV center-of-mass energy. The ring is to be built within the present Laboratory site boundaries and will use the Tevatron I system as a 1-TeV injector (see artistic overlay showing the Main Ring within the proposed Dedicated Collider ring). B.J. summarized the arguments for the Collider by saying "it is good science, we will already have a good injector, we already have the technology such a machine will require, and it is good for the fixed-target program."
Stan Wojcicki of Stanford University discussed the sources of input that the Woods Hole Panel considers in arriving at a recommendation to HEPAP: results of workshops, DOE reviews, presentations by laboratory staffs, written laboratory proposals and documentation (such as Fermilab's Dedicated Collider proposal), meetings within the community, and letters from the high-energy physics community. He appealed to the Fermilab users to submit such letters to him by May 1 so that the Panel will have time to consider them before their June 5-11 meeting.
Source: FermiNews special, July 8, 1982

by Tim Toohig
On Wednesday, April 20, Cardinal Joseph Bernardin of Chicago visited the Laboratory at the invitation of Director Leon Lederman. Cardinal Bernardin is the chairman of the committee of American bishops preparing a pastoral letter on the morality of nuclear armament and warfare. In draft form the letter has attracted wide attention in government, as well as religious, circles.
In an informal talk to the Fermilab staff after touring the Laboratory, Cardinal Bernardin spoke about the need that religion has of science to develop an informed faith and that science has of faith as a context for science. He cited the current discussions on nuclear armaments as an example. The bishops rely heavily on scientific advisers in formulating their pastoral letter, while in their experience most scientists have welcomed the moral dimension that the bishops bring to the discussion.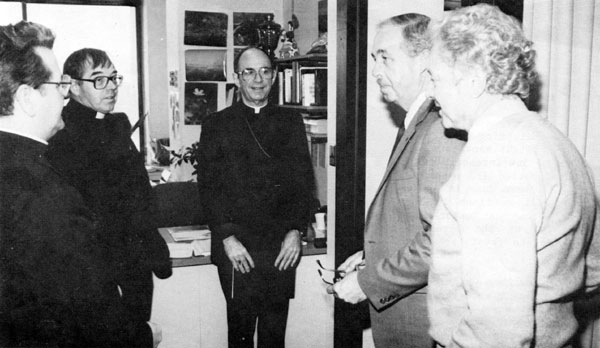 (Left to right) Father Jim Roache, Administrative Assistant to Cardinal Bemardin, Father Tim Toohig, Cardinal Joseph Bemardin, Bob Bauer, DOE Area Manager, and Leon Lederman
Source: FermiNews, April 28, 1983