Theoretical Physics Section is Formed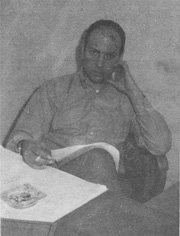 David Gordon
A Theoretical Physics Section, temporarily housed at 27 Sauk, was formed this fall at the National Accelerator Laboratory, with Dr. David Gordon as its acting head.
The group was created in response to the desire to have at an early stage of the Laboratory's development a theoretical component as an integral part of its activities.
Staff members of the group are Louis Clavelli, David Gordon, Pierre Ramond, Jim Swank and Don Weingarten. They are particle physics, with special emphasis on high-energy phenomena.
In addition, the group expects to become involved in theoretical problems related to future experiments to be done by NAL experimentalists both at other facilities and by NAL.
One of the early activities of the group was to assist Roger Thompson, the NAL librarian, in greatly expanding the elementary particle physics section of the library.
A series of weekly theoretical seminars has been organized, bringing distinguished theorists to the Laboratory on a weekly basis.
In the near future, a series of sets of weekly lectures on topical areas of theoretical physics will be initiated. This program under the direction of Dr. Edwin L. Goldwasser, NAL Deputy Director, will bring a guest lecturer to the Laboratory one day a week for a period from two to six weeks.
He will develop discussions of some area of high energy physics which is of current interest to him.
The format of sets of consecutive seminars will enable the "Professor of the Month" to develop topics starting from basic principles and finishing with a discussion of current work and future interest.
In a statement issued to NAL staff members November 6, 1969, Dr. Goldwasser said, in part: "During the past two years we have tried to keep good contract between theoretical physicists and experimentalists who are building the 200 BeV accelerator and planning its experimental facilities." . . . "We have now added to our staff five young post-Ph.D. theorists who, as members of our staff, are available to our experimentalists in connection with their current experiments and with their formulation of plans for facilities to be provided for the 200 BeV research program.
"This year, as another facet of this program, we are planning to bring to NAL as visiting lecturers some of the theorists who are working with problems connected with physics at higher energies. Each such theorist will be asked to take responsibility for a series of two to six weekly seminars in which he will discuss a problem that is of particular interest to him and of some import to the 200 BeV research program.
"We are starting this program of visiting 'Professors of the Month' in December. Professor J. J. Sakurai will give a series of three seminars on December 1, 8, and 15, on the subject 'Vector Mesons and Electromagnetic Interactions of Hadrons.' " We welcome visiting theorists and experimentalists who would be interested in participating in these discussions.
Source: The Village Crier Vol. 1 No. 6, November, 1969