Distinguished Visitors and Special Events
AEC COMMISSIONER VISITS NAL
AEC VISITORS - James T. Ramey, a member of the five-man U.S. Atomic Energy Commission, visited NAL in early April. This photo, taken in the Directorate Curia, shows Mr. Ramey (second from right) with (left to right): John G. Erleweine, assistant general manager for operations of the USAEC; Robert R. Wilson, NAL director, and Kenneth Dunbar, manager, Chicago operations office, USAE.
Source: The Village Crier Vol. 1 No. 2, April, 1969
CERN SPS DIRECTOR ADAMS VISITS NAL
Dr. F. T. Cole (right) NAL Assistant Director for Technical Affairs, shaking hands with Dr. John Bertram Adams, director of the proposed 300 BeV accelerator to be developed by CERN, before boarding a helicoptor for an aerial view of the lab. April, 1970.
Source: NAL Photograph, negative #70-292-2

AEC's Glenn T. Seaborg speaks to Pugwashers in NAL Village Barn
Photos Courtesy Aurora Beacon-News
Prominent men and women in science and world affairs from 35 countries are meeting in the relatively relaxed surroundings of The Abbey, a resort hotel in nearby Lake Geneva, Wisconsin, to exchange opinions on major problems confronting mankind.
Some 110 scholars and scientists are attending the 20th Pugwash Conference on Science and World Affairs. The conference gets its name from the site of the first conference held in 1957 in Pugwash, Nova Scotia, the birthplace of its benefactor, Cyrus Eaton, the Cleveland, Ohio, industrialist.
This year, the theme of the two-week seminar is: "Peace and International Co-operation: A Program for the Seventies." The meetings are sponsored by the Adlai E. Stevenson Institute of International Affairs at the University of Chicago, directed by William R. Polk, a professor of Middle Eastern history. Dr. Robert R. Wilson, NAL Director, and Mrs. Wilson, who is book editor of The Bulletin of the Atomic Scientists, attended the first working meetings last week at Lake Geneva.
Last Saturday, some of the Pugwash scientists and scholars took a busman's holiday and visited NAL while others toured the Art Institute of Chicago and still others attended an "Operation Breadbasket" meeting on Chicago's South Side led by the Reverend Jesse Jackson.
About 20 scientists and scholars from the Pugwash meeting were welcomed to NAL at an informal meeting in the Village Barn conducted by Dr. Wilson. The NAL Director then introduced Dr. Glenn T. Seaborg, the Nobel laureate in chemistry who is chairman of the U.S. Atomic Energy Commission.
The AEC chairman said that he was fortunate to be in Chicago at a time when the Pugwash group was to be at NAL. He had come here to do some work at Argonne National Laboratory and to deliver a speech at the American Chemical Society annual convention in Chicago. Then, he turned to the theme of international co-operation, saying:
"This Laboratory will be open, under the proper auspices, to scientists from all over the world."
Robert R. Wilson, NAL director and Francois Perrin
Nuclear Energy Administrator from France
Dr. Seaborg said that he had been in communication with senior members of the Russian scientific leadership to develop plans for international co-operation in the area of high energy physics research at NAL when it is completed.
Dr. Seaborg said that the development and construction of NAL has been a "real success story so far." He said that the NAL effort was "about the only case where a large project was coming in ahead of schedule, delivering more energy than it was designed for and at a cost less than projected." He singled out Dr. Wilson with praise for his "leadership" in "this success story."
Looking into the long-range future of elementary particle physics developments, Dr. Seaborg told the Pugwash group: "If we ever build another accelerator bigger than this one, it could possibly be an international machine. It appears that it will be harder and harder to get funds for such large machines on a purely national basis." The proton synchrotron being developed at NAL has been authorized by Congress for $250,000,000.
In his brief speech, Dr. Wilson advised the group that the NAL machine originally was designed for 200 BeV. However, he said, it now appears that it will provide protons with energies up to 500 BeV. He also outlined the general site layout and described the current status of construction. The meeting was followed by a tour of the main site and a luncheon. Representatives of the United Kingdom, France, Japan, Rumania, Poland, the U.S.S.R., India, the United Arab Republic, and Senegal were in the group.
| | |
| --- | --- |
| | |
| Looking over NAL visitor's packet are (L to R) Physics Prof. Norman Ramsey of Harvard University, also president of the Universities Research Association, Inc.; Francois Perrin, nuclear energy researcher and administrator from France, and Robert R. Wilson, NAL Director | One Soviet delegate was Oleg A. Reutov, a member of the Russian Academy of Sciences and a professor of chemistry, University of Moscow. Here, Prof. Reutov (center) speaks with Edwin L. Goldwasser, NAL's deputy director, (left) and Dr. S. Bhagazantam, of New Delhi, India |
Source: The Village Crier Vol. 2 No. 37, September 17, 1970

NAL was host last week for the 1970 Proton Linear Accelerator Conference with approximately 150 scientists and engineers in attendance from leading physics research institutions in the world. About 40 members of NAL also participated.
The five-day conference included the presentation of nearly two score papers covering a number of technical subjects including: (a) Status of New Proton Linacs; (b) Beam Diagnostic Measurements; (c) Operating Proton Linacs; (d) Superconductivity and RF Structures; (e) Controls; (f) Electrical Engineering; (g) Mechanical Engineering; (h) Beam Dynamics; (i) Heavy-Ion Electron Accelerators; (j) Ion Sources and Pre-accelerators; and (k) Beam Transport and Diagnostic Methods.
Among NAL staff members who were authors of papers presented were Donald Young, head of the Linac section; Robert W. Goodwin, Edward R. Gray, Glenn M. Lee, Michael F. Shea, Cyril D. Curtis, Curtis W. Owen, Donald I. Mendenhall, Russell A. Winje, Hong C. Lau, Anthony R. Donaldson, Maxwell Palmer, Frank J. Mallie, Lawrence J. Sobocki, Arthur E. Skraboly, John E. O'Meara, Edward L. Hubbard, Wilmer C. Martin, Gianmaria Michelassi, Robert E. Peters, Frank M. Krzich, Reid K. Rihel, Elton W. Anderson, Frank L. Mehring, James D. Hogan, Miguel Awschalom, Peter J. Gollon and Fred Hornstra, Jr.
John M. Dickson, who recently returned to Rutherford High Energy Laboratory in England from NAL, also joined in preparing a paper on the initial performance of the 66-MeV portion of the NAL 200-MeV Linac although he was not able to be present in person.
RRW speaks to opening session of Proton Linear Accelerator Conference
Photos by Tony Frelo, NAL
The conference sessions took place in the Village Barn. It was the first major international technical conference held at NAL. A site tour was conducted for the visitors by NAL's Thomas L. Collins and Francis T. Cole.
At the opening session, held Monday morning, September 28, Robert R. Wilson, NAL Director, greeted the conferees. He told the group that "we are proud of our Linac group: for their many accomplishments, and noted that the Linac section was the first to establish offices and laboratories on the 6,800-acre site. "They were the first to move into our NAL Village and the first section to leave it for the Main Site," Dr. Wilson pointed out.
Dr. Wilson also made the announcement that the Linac section had achieved the goal of accelerating a proton beam through the first six tanks of the Linac to an energy of 139-MeV - - - thus laying claim to NAL being the home of the world's highest energy proton linear accelerator.
Dr. M. Stanley Livingston, former Associate Director of NAL, returned from his Santa Fe, New Mexico retirement home to attend the meetings and to serve as Chairman for the session of Ion Sources and Pre-accelerators.
Participants included representatives of the Chalk River Nuclear Laboratory, Canada; CERN; Cornell University; the Johann Wolfgang Goethe University in Frankfurt, Germany; the University of Heidelberg, Germany; Lawrence Radiation Laboratory; Los Almos Scientific Laboratory; Central Engineering, Minneapolis; the National Bureau of Standards; the National Science Foundation; Argonne National Laboratory; SLAC; Oak Ridge National Laboratory; Institute de Physique Nucleaire, Orsay, France; Brookhaven National Laboratory; Institut fur Experimentelle Kernphysik, Karlsruhe, West Germany; the University of Tokyo; Indiana University; Physical Sciences Laboratory, Stoughton, Wisconsin; University of Massachusetts; Stanford University; University of Rennes, France; the University of Lyon, France; C.E.A.-Saclay, France and the U.S. Atomic Energy Commission, Washington, D.C. and Batavia, Illinois.
Commenting on the conference at NAL, Don Young stated, "I was pleased that the Laboratory was able to serve as a host to this important technical conference even as we are preparing to enter the final stages of the construction period. Considerable in terest in the progress of our Linac section was exhibited by our many distinguished visitors. There was a good and intensive exchange of ideas among the physicists and engineers in attendance and this only can mean a better understanding of the complex technology of Proton Linear Accelerators. I also would like to take this opportunity to thank the many men and women at NAL who helped to make this conference both interesting and meaningful."
The next Proton Linear Accelerator Conference will be held in two years. The location has not yet been chosen.
Source: The Village Crier Vol. 2 No. 40, October 8, 1970
Prof. Bernard Gregory (R), retiring Director General of the European Organization for Nuclear Research (CERN), Geneva, Switzerland, views model of NAL "footprint" area in the NAL Curia as Robert R. Wilson, NAL Director, explains details. Prof. Gregory spent two days at NAL on Jan. 25 and 26, 1971.
Source: NAL Photograph, negative #71-30-3, date 1-26-71
| | |
| --- | --- |
| | |
| ACCELERATED VISITORS: Andronik M. Petrosyants, chairman, Soviet State Committee on Atomic Energy, rides bicycle to inspect portion of Main Accelerator tunnel at NAL on Friday afternoon, April 16. Directly behind him (at right) is Prof. Norman Ramsey of Harvard University's Physics Department who also serves as president, Universities Research Association, Inc. | THE FINAL TOUCH: Glenn T. Seaborg, chairman, U.S. Atomic Energy Commission, left) watches with Robert R. Wilson, NAL's Director, as workmen from Belding Engineering Co., of West Chicago, put the final and 1,014th magnet in NAL's Main Accelerator to complete the assembly of the largest component in the Laboratory's accelerator system. The event took place during the Russian delegation's visit to NAL |
Source: The Village Crier Vol. 3 No. 16, April 22, 1971



NAL and the University of Chicago will be co-hosts to the International Conference on High Energy Physics to be held September 6 through September 13, 1972.
It is one of the most significant regular meetings held in the international elementary particle physics community. Originally called "The Rochester Conference," the first meeting was held at the University of Rochester in 1950 and was organized by Professor Robert E. Marshak, physicist and astrophysicist, who recently was appointed president of the City College of New York. About fifty scientists attended the first meeting at the University of Rochester.
Dr. Edwin L. Goldwasser, NAL Deputy Director, and Dr. Robert G. Sachs, Department of Physics and Professor and Director, Enrico Fermi Institute, the University of Chicago, are co-chairmen for the 1972 meeting.
Mrs. Helen Peterson, a part-time employee of NAL's Director's Office, is coordinator for the 1972 meeting. Attendance will be by invitation and about 800 scientists from the United States, Western Europe and Soviet bloc countries are expected to attend. Other countries expected to send participants include Canada, Israel, Japan and Taiwan. It is expected that more than 1,000 visitors, including wives and family members, will come to the area as a result of the meeting.
The Conference is held every other year and rotates from the USA to Europe to USSR; thus in 1966, the Conference was held at Berkeley, California with the Lawrence Radiation Laboratory of the University of California as host. In 1968, it was held in Vienna, Austria; in 1970, in Kiev, USSR; and for 1972, the USA.
Present plans for the six-day meeting call for the first three days of the Conference to be held at the University of Chicago campus with parallel sessions -- as many as three or four at any one time. The meetings at the University of Chicago are scheduled for Wednesday, September 6; Thursday, September 7, and Friday, September 8.
There will be a free weekend for participants on Saturday, September 9, and Sunday, September 10. During the weekend, participants will come to housing facilities in the vicinity of NAL.
Plenary sessions will be held in the NAL auditorium Monday, September 11; Tuesday, September 12, and Wednesday, September 13. Tours of NAL facilities and other high energy physics research centers will be arranged for participants before, during and after the meetings.
Source: The Village Crier Vol. 3 No. 18, May 6, 1971
Victor F. Weisskopf, one of the elder statesmen of high energy physics, urged his colleagues to join aggressively in the effort to gain wider popular support for the funding of elementary particle physics.
MIT's Victor Weisskopf talks to NAL Users'
Organization meeting in NAL Village Barn.
"Use your ingenuity to make these things interesting to the public...Don't shun the practical applications of the physics work you are doing. The attitudes and the spirit that are used in basic science are exactly the things that are needed to solve the problems now confronting society," said the Viennese-born professor at the Massachusetts Institute of Technology who formerly was Director of CERN, the European Center for Nuclear Research.
Weisskopf spoke at the annual meeting of the NAL Users' Organization in the Village Barn April 30, 1971. "NAL is the most important laboratory we have; it gets too little for the work it will do," he told the assembled physicists.
He suggested that physicists seek to gain support for their work by speaking and writing more and more for popular-level audiences. In-addition, he suggested that experimental physicists find unique and enticing titles in listing their experiments, rather than complex, esoteric descriptions understood only by a handful of their colleagues. "Find a title that will dramatize them," he urged.
In his remarks, Robert R. Wilson, NAL Director, said that work was proceeding at such a fast rate at NAL that he has shifted his thinking from a year ago. Whereas he thought in mid-1970 that on the first of May, 1971 all attention would be focused on the accelerator, he finds now that experimental areas are past the planning stage and under construction...getting ready for use. The experimental facilities have become an integral part of he facility, he said.
"Nearly 300 users from universities and research centers across the nation attended the two-day meeting which included reports by various NAL staff members and a tour of the various NAL laboratories and accelerators.
Earle C. Fowler, recently-appointed chairman of the Physics department at Purdue University, West Lafayette, Ind., also serves as chairman of the NAL Users' organization. Membership in the group is open to practicing high-energy Ph.D. experimentalists, accelerator scientists and senior engineers from universities and laboratories, including NAL.
Members of the NAL Users' Organization Executive Committee include: Charles Baltay, Columbia University; Fowler; L.G. Pondrom, University of Wisconsin; Valentine Telegdi, University of Chicago; Stanley Wojcicki, Stanford University; David Cline, University of Wisconsin; George Masek, Lawrence Radiation Laboratory; David Ritson, Stanford Linear Accelerator Center; Harold K. Ticho, University of California at Los Angeles; Malcolm Derrick, Argonne National Laboratory; Aihud Pevsner, CERN (on leave from Johns Hopkins); Horace Taft, Yale University; D. Hywel White, at University College, London (on leave from Cornell).
Source: The Village Crier Vol. 3 No. 19, May 13, 1971
Photo by Tony Frelo, NAL

Robert R. Wilson, NAL Director, and Willibald Jentschke, Director General of CERN, making some light-hearted modifications to the NAL Master Plan in the Curia prior to Dr. Jentschke's lecture on Wednesday, Sept. 1, 1971. More pictures
Photo by Tony Frelo, NAL
Source: The Village Crier Vol. 3 No. 37, September 16, 1971


The tall, distinguished-looking gentleman who has headed the Atomic Energy Commission's office on the NAL site since July of 1968, will retire on June 30. Kennedy C. Brooks ("K.C." to all) will end a career that began in 1935 with the U.S. Corps of Engineers. His service with the AEC started in 1946 at Oak Ridge, Tenn.; he transferred to Paducah, Ky. in 1951, and to the AEC headquarters, Washington, D.C., in 1962 until he came to NAL.
The Chicago operations office of the AEC sponsored a farewell party for the Brookses on Friday, June 24. At the party, Mr. Brooks was presented with a shillelagh by Dr. Robert R. Wilson. Dr. Wilson also announced that he is naming the reservoir north of the Meson Lab "Casey's Pond."

Jean and K. C. Brooks at farewell party on June 23
Photo courtesy A. Mravca

A man of quiet dignity, loved and respected by all who work with him, K.C.'s broad range of experience contributed much to the success of NAL's construction. But the satisfaction is mutual. According to K.C., "I've certainly been fortunate to end my career on a project such as this. It has been a real privilege to help Bob Wilson build this laboratory."
And what does K.C. hope will be accomplished at the laboratory he helped build? "I hope you will be able to use this machine to get closer to the cure for cancer...I think this is very possible."
The best wishes of the NAL staff go with the Brookses as they launch their second career.
Source: The Village Crier Vol. 4 No. 24, June 29, 1972

The four architecture-engineering firms comprising the DUSAF joint venture commemorated the fifth anniversary of association with the National Accelerator Laboratory at a luncheon at Pheasant Run, St. Charles, 111. on Thursday, June 15th. Among the guests (in the photo at right) were (L. to R.) Col. Wm. D. Alexander, DUSAF Project Director; Norman Ramsey, President of Universities Research Association, Inc. of Washington, D.C.; Robert R. Wilson, NAL Director. DUSAF member firms are: Daniel, Mann, Johnson, and Mendenhall of Los Angeles; the office of Max 0. Urbahn of New York City; Seelye, Stevenson, Value and Knecht, Inc., of New York City; and George A. Fuller Company, a Maryland Corporation.
Photo by Tony Frelo, NAL

Source: The Village Crier Vol. 4 No. 24, June 29, 1972
PROGRESS REPORT - JULY 9th through JULY 23, 1972
Protons were accelerated to 300 BeV for the first time at 9 p.m., July 16th. After a few shifts of operation at this energy, the effort reverted to supplying 200 BeV protons for the completion of the tune-up of the muon line and to machine improvement.
The severe electrical storms that broke over Northern Illinois on Friday, July 14th were a serious distraction for the NAL Accelerator Section crews that were tuning the machine on a 300 BeV ramp for the first time. The system tripped off four times on Friday night due to the turbulence. Each time, the painstaking operations were involuntarily interrupted and resumed. On Saturday morning, replacement of a magnet halted progress for several hours. But, in spite of all delays, efforts continued through Saturday and during the day on Sunday, July 16th.
Good beam on a 100 BeV ramp came Sunday afternoon; the ramp was raised to 300 BeV at 8:35 p.m. A satisfactory coasting beam was achieved by 9:10 p.m. Exactly two minutes later, after the radio frequency voltage had been turned on, acceleration reached 300 billion electron volts.
Except for coping with the effects of the natural phenomena outdoors, the 300 BeV occurrence came as a methodical, step-by-step achievement on the shift led by Jon Sauer as Operations Chief. Keith Meisner was chief accelerator operator, assisted by Barry Bames, Grover McIntyre and R. Webber. Bob Angstadt carried out the Main Ring electrical function with Vie Garzotto and F. Johns on on Main Ring mechanical. John Benolken served as Duty Assistant. Dick Cassel performed his magic calculations on the power supplies during Sunday afternoon operations. Stan Tawzer and Jim Griffin handled R.F. duties. A few other interested persons came and went from the control room area in the course of the hours of the decisive run while the machine and the crew performed well, again.
Preparations were underway immediately to extract the 300 BeV protons from the Main Ring and route them to the 30-inch Bubble Chamber to carry out the first experiment at the higher energy. The crews, still plagued with such distractions as a tornado warning evacuation on Monday night, July 17th, and power outages beyond their control attained some 300 BeV extraction success by Wednesday, July 19th.
During the tests, engineers and technicians from Commonwealth Edison stood by to monitor the effect of the higher energy accelerator operation on Commonwealth Edison's power distribution system. The new high in acceleration came as one of three fronts being attacked in the Accelerator Section - namely, continued improvement in the general operation of the machine, developing intensity, and achieving slow extraction. Efforts in the Section rotate from one phase to another, in addition to providing beam to the Internal Target and Neutrino laboratory experiments. With a total of 41 power supplies now installed and with operation increasingly reliable, the try for 300 BeV was a logical progression. Increased intensity in the Main Ring to match intensity levels achieved regularly in the Linac and the Booster, and slow extraction are expected to reach satisfactory levels in the near future.
Dr. Boyce McDaniel, head of the Accelerator Section, commented on the 300 BeV event, "We had expected that we would achieve higher energy without much difficulty, but we were still very pleased when it happened."
Source: The Village Crier Vol. 4 No. 26, July 27, 1972
NAL welcomed the more than 800 visitors who came this week to participate in the last three days of this conference. It is hoped that their tours of the NAL facilities gave glimpses of the promise for the future that will come from the world's highest energy accelerator. "You are seeing the fulfillment of a dream we have all had for some time," NAL Director Robert Rathbun Wilson noted in his welcoming address last Monday.
An aerial view of Central Laboratory area and the experimental
lines of the National Accelerator Laboratory in August, 1972


Photo by Tony Frelo, NAL
"But we need a fairy godmother," he told his colleagues, "and I urge you to touch us and bring us to life."
Visitors to the NAL site found that the status of projects under construction included the Central Laboratory Building, about 60% complete. Thirteen of the sixteen stories had been poured and completion of the building was expected in June, 1973. The adjoining auditorium was finished in November of this year.
In the experimental areas, the Neutrino Laboratory was 90% complete. The Meson Laboratory main building was finished in November, 1972. Two experimental pits of the Proton Laboratory were approaching completion.
Donald R. Getz, Assistant Director at NAL, explained to employees, "We are now at a point where we can see the end of the mud and inconvenience we have lived with for four years. The attractive and useful site and buildings we've planned are nearing completion, and we will go into a more comfortable operational phase."
It was a busy, varied week for the physicists attending the XVI International Conference on High Energy Physics at the University of Chicago and NAL. Photographers caught the physicists and their families, guests and hosts, in some of their leisure moments.
E.L. Goldwasser talking to Robert Sachs and
Richard J. Daley, Mayor of the City of Chicago
Willibald Jentschke, Director-General of CERN,
talking with Carolyn Sachs
Robert Wilson talking to two guests
(Photos by H. Anne Plettinger, David Neace, Tony Frelo)
Source: The Village Crier Vol. 4 No. 29, September 14, 1972
The XVI International Conference on High Energy Physics recently held at NAL brought a host of distinguished visitors to NAL. The meetings were held in the nearly-finished auditorium and the adjoining nearly-finished two floors of the Central Laboratory, adapted with temporary accommodations for the meetings. Shown here are a few of the guests at the conference.

(L to R) Murray Gell-Mann, 1968 Nobel Laureate; W. Metz, SCIENCE Magazine; E.L. Goldwasser and Robert Sachs, Co-chairmen of the Conference; Victor Weisskopf, M.I.T., and Walter Sullivan of the New York Times, at press luncheon.
Photos by Tony Frelo, NAL
Maurice Goldhaber, Director of the
Brookhaven National Laboratory
T.D. Lee, 1957 Nobel Laureate, discussed current
problems with W. Panofsky, Director of SLAC
Frank Yang brought movies of recent
China visit to the Conference
Source: The Village Crier Vol. 4 No. 30, September 21, 1972
The first in a series of topical conferences arranged by the NAL Theoretical Physics Group brought 125 participants to the Laboratory on Friday and Saturday, December 8 and 9, 1972. Topic for this session was "Quarks and Partons: What Good Are They?" The word "parton" was coined a few years ago by R. P. Feynman of Caltech, a featured speaker at the conference, to describe point-like particles that are possible constituents of protons, the particles accelerated at NAL. "Quarks," originally proposed by Gell-Mann and Zweig in 1963, as building blocks for protons and other particles in order to correlate certain observed patterns or symmetries, and so far unseen as separate entities, may be related to or be the same as partons. As the title of the meeting implied, there were questions in the minds of some physicists as to the reality and usefulness of both partons and quarks. The purpose of the conference was to marshal the evidence in support of these concepts and to discuss experimental means of testing the hypotheses further.
R.P. Feynman (R) and H. Abarbanel at blackboard session
following topical conference
Photo by Tony Frelo, NAL
The format for the meetings featured a review of the topic from an experimental viewpoint, followed by a panel discussion, then a review of the salient theory, followed by another discussion. B. Barish (Cal Tech) presented the experimental review talk on Friday afternoon, and a panel led by T. Yamanouchi (NAL), and including E. Paschos (NAL), H. Frisch (University of Chicago), P. Freund (University of Chicago), and D. Miller (Northwestern University), questioned Barish followed by active audience participation. On Saturday morning, Feynman spoke to the group, and a panel chaired by S.D. Ellis (NAL) with J. Cronin (University of Chicago), M. Kislinger (also of Chicago), A.D. Krisch (University of Michigan), and C. Quigg (NAL/Stony Brook), led group discussion.
Dinner in the NAL Cafeteria offered further opportunity for informal exchanges by participants.
According to Henry D. I. Abarbanel of the NAL Theoretical Physics Group, who organized the conference with T. Sanda, this meeting and succeeding topical conferences will help to stimulate a center in the Midwest at NAL for the exchange of communications between theorists and experimentalists. The informal no-invitation basis of attendance brought persons most interested in the subject at hand, according to Abarbanel. There will be no proceedings issued.
"The two talks focused directly on experimental measurements that are crucial to the ideas of parton and quark models, particularly the ideas that link partons directly with quarks," reports Abarbanel. "In some sense nothing brand new developed, but the pedagogical value of the focus on key issues was very significant. Feynman's discussion of photon-hadron interactions in front of experimentalists doing the work, at a time when new experimental data are being analyzed, was very important."
"The format of one lengthy and comprehensive presentation at each session, rather than a series of shorter papers covering different aspects, seemed to work well," reported J. D. Jackson, who was head of the Theoretical Physics group. "The invited speaker had time to develop the subject logically and coherently and at a reasonable pace."
A second topical conference (on diffractive phenomena) was being planned for early March, 1973. Attendance again will be on a first-come, first-served basis in response to the general announcement to be issued soon.
Source: The Village Crier Vol. 5 No. 2, January 11, 1973
One of NAL's most unusual visitors came on Friday, March 16 -- Maharishi Mahesh Yogi, the leading proponent of transcendental meditation, and about twenty-five members of his teaching staff. The diminutive Yogi had expressed his particular interest in meeting with Dr. Robert Wilson, to learn something about what we do at NAL.
Robert R. Wilson (L) explains the accelerator system to Maharishi
Photo by Tony Donaldson
In a discussion in Dr. Wilson's office, Maharishi explained that his interest in NAL stemmed from the nature of high energy physics. Just as scientists here and at other laboratories study the basic nature of matter, and are attempting to find some unifying principles governing all matter and energy, so Maharishi and his followers study the workings of the mind, trying to reduce the thought process to its most basic level. Maharishi feels that once these fundamental thought processes have been mastered through transcendental meditation, new realms of the mind and spirit are opened, and the individual is capable of greatly expanded capabilities and creativity. (Those who practice transcendental meditation do not adhere to any particular life style or hold any specific philosophical or religious beliefs.) Following their discussion, Dr. Wilson led the group on a tour of the site. His comment on the visit? "Well, they're a very interesting group. I'll be curious to see how they get on."
Source: The Village Crier Vol. 5 No. 12, March 29, 1973
Fourteen physicists from the People's Republic of China spent three days in June, 1973 at the National Accelerator Laboratory as part of their five-week tour of major U.S. high energy physics installations. The visit was arranged by the Committee on Scholarly Communication with the People's Republic of China, sponsored by the American Council of Learned Societies, the National Academy of Sciences, and the Social Science Research Council. The Committee also sponsored the visit to NAL in December, 1972 of another group of scientists from the People's Republic. Two members of that group returned with the recent tour.
The PRC physicists were housed in Chicago and traveled to NAL by bus each day. Several members of the NAL staff conducted tours of the NAL facilities for the visitors.
Officials of the National Accelerator Laboratory stated that they looked forward to opportunities for international collaboration in the field of high energy physics, which NAL serves. No specific plans were made then for PRC physicists to carry on experiments here.
| | |
| --- | --- |
| | |
| Chang Wen-yu (R), leader of the Chinese HEP delegation, and deputy director of the Chinese Academy of Sciences' Institute of Atomic Energy, describes his home facility to an informal gathering in the NAL Cross Gallery | NAL's Donald E. Young (lower right) explains linac operation to PRC delegation. Denise Emery, National Academy of Science coordinator for the visit is seen upper center |
| | |
| | |
| Ed Hubbard (L) illustrates Booster Accelerator operation to Chinese physicists | Lee Teng, NAL Accelerator Division (R), spoke to the group in his native Chinese |
Photos by Tony Frelo
Source: The Village Crier Vol. 5 No. 21, June 17, 1973
NAL and DUSAF recently celebrated the sixth year of their contract for design and completion of conventional facilities for the National Accelerator Laboratory. It was an occasion for DUSAF to recognize the completion of many of its major projects. At the same time, DUSAF re-grouped its forces for one-year extension of portions of the contract, to July of 1974.
E. Parke Rohrer (standing) displays farewell gift at DUSAF
luncheon. Norman Ramsey, URA President, and
W. Alexander, DUSAF Project Director, also attended
Photo by Tony Frelo, NAL
It was on January 1, 1968 that the joint venture I received authority to proceed with design of these I facilities for the National Accelerator Laboratory. Four firms have participated in the joint venture: Daniel, Mann, Johnson, and Mendenhall of Los Angeles; the office of Max 0. Urbahn of New York City; Seelye, Stevenson, Value and Knecht, Inc., of New York City; and George A. Fuller Company, a Maryland Corporation, (hence, the acronym DUSAF). William D. Alexander of DMJM has served as Project Director. And DMJM's E. Parke Rohrer, Project Manager. DUSAF operated under a consulting contract with the U.S. Atomic Energy Commission from 1965 on during the most preliminary planning for NAL, including the work done at the Lawrence Radiation Laboratory in Berkeley, California. Offices of the firm are located in the former Phillips Farm on the NAL site on former Batavia Road. DUSAF presently employs about 35 people on its staff.
DUSAF's administrative structure for the next year will be as follows: Project Manager, Richard Payzant; John Trommerhauser remains as Assistant Project Manager. George Poddy will be in charge of Architecture and will serve as Coordinator for Engineering and Architectural Design. Norman Christensen remains as Manager of Construction. Other DUSAF administrators will include: Tom Pawlak, Project Engineer; Fran Johnson, Coordinator of Construction; Rex Reiser, in charge of Contracts; and Fred Nelson, head of Purchasing.
Dick Pages, holds the position of Chief Structural Engineer; William Power. Chief Electrical Engineer; Warren Lahners, Chief Mechanical Engineer; and Homer Branch, Chief Civil Engineer.
E. Parke Rohrer moves to the post of DUSAF Project Director, but returns to the home offices of DMJM in Los Angeles as Deputy Director of regional groups. He will return to NAL each few months in his new supervisory capacity. Known to his associates at NAL as a man of deep integrity and personal commitment, he has been a calm. Steady, and dedicated captain of the DUSAF ship since January of 1968.
As he left the NAL area last week, he said, "I'll always remember Dr. Wilson's demos to DUSAF - 'save the trees and get rid of the port-a-camps.'"
"But,"-he went on, "this has been the most challenging and rewarding project I have ever worked on - challenging because there has never been anything like it, and rewarding because we were able to stay long enough to see the accelerator reach 400 BeV. I want to thank all of the contractors, the NAL personnel, and the DUSAF employees who have helped us."
Source: The Village Crier Vol. 5 No. 24, July 5, 1973
The addition of the name of Fermi to the title of the National Accelerator Laboratory, at the dedication ceremony to be held at the Laboratory on May 11, brings to the Laboratory a legacy of great, pioneering discovery in nuclear physics by a man whose warmth and patience are treasured by those who knew him.
Mrs. Laura Fermi recently visited NAL as a guest of Herbert L.
Anderson, professor of physics at the University of Chicago and
an NAL experimenter. Mrs. Fermi is well-known as the author of
"Atoms in the Family," "Atoms for the World," "Illustrious
Immigrants:the Intellectual Migration from Europe," as well as
biographical studies of Galileo and Benito Mussolini. Dr. Anderson
was associated with Mrs. Fermi's late husband, Enrico Fermi,
in his work at Chicago
Many people associated with the National Accelerator Laboratory once worked with Enrico Fermi. They speak of the new insights he brought to nuclear theories and experiments, but they speak of Fermi the man - a teacher with a clear, kindly regard for the level of understanding needed by his students. In the fifteen years he resided in the U.S., Fermi made enormous intellectual contributions to American culture in his work at Columbia University, at the University of Chicago, in the Los Alamos project. The importance of his contributions to nuclear advances in the U.S. and to neutrino research continue to be noted.
Mrs. Laura Fermi, writing of her life with the great scientist in her book, "Atoms in the Family," gives a delightful narrative of the family's move to the United States in 1939. It is a story not only of their personal adjustment to a new land, but a moving account of the pressures of the time which necessitated their decision to leave Italy for the U.S. where Fermi's work could continue.
Laura Fermi, Herbert Anderson on a visit to the
National Accelerator Laboratory
Some of NAL's people were Fermi's colleagues, some were his undergraduate or graduate students, others worked with him in technical capacities. This is how they remember Enrico Fermi:
Professor Herbert L. Anderson of the University of Chicago, then working on Muon 98 at NAL, met Fermi at Columbia University shortly after Fermi arrived in the U.S. Their association continued until Fermi's death in 1954. Anderson tells of Niels Bohr's visit to Columbia in early 1939 to talk to Fermi about the discovery of fission, the splitting of the atomic nucleus. Fermi was greatly taken with Bohr's news and when he left, that very day Fermi and Anderson set up simple expert-mental equipment that demonstrated the process. They joined a group at Princeton two years later for more advanced experiments on this chain reaction. Such a collaboration between universities, a common practice at NAL in 1974, was a novel idea in 1941, according to Anderson. One of the collaborators was Robert R. Wilson, then an assistant professor at Princeton.
Anderson recalled that Fermi, the theorist, shifted easily to Fermi the experimentalist. "He delighted in producing with his own hands some piece of apparatus that was needed in the experiment. When the cyclotron at Chicago was ready to run, Fermi made a target that could be manipulated from the outside. We called it the 'Fermi trolley.' It used the field in the magnet to move it about. He loved to be given a problem and took pride in coming up with speedy solutions...Fermi liked to do his homework. He worked out the theory of pion production so that we would know what to expect when we began to operate the cyclotron.
Enrico Fermi
"If he could have seen with what excitement and anticipation such great discoveries are being sought these days at NAL, Fermi would have been thrilled. I wish he could have been here."
Robert Bacher, president of the Universities Research Association, met Fermi in 1933 and 1936 at summer lectures for which Fermi travelled to the U.S. from Italy. (Bacher was chairman of the May 11, 1974 dedication program.) In addition to his great intellectual strength, Fermi had enormous physical strength, Mr. Bacher recalled. "I remember catching up with him as he started to swim across a lake at Ann Arbor, to tell him that it was l.5 miles across that lake, but Fermi kept on swimming and went the whole distance. He was a great competitor and loved to win."
Robert R. Wilson, Director of NAL, began his association with Fermi in 1941 in that collaboration at Princeton. Dr. Wilson spoke of the clarity of the Fermi lectures he heard during the ensuing years. "They were always informative, instructive, simple and clear enough for everyone to understand...Fermi was a friend, a colleague, a teacher, and an inspiration."
T.D. Lee, Nobel laureate and Enrico Fermi Professor at Columbia University, was a member of NAL's Program Advisory Committee for several years. Dr. Lee earned his doctorate at the University of Chicago under Fermi. Dr. Lee sees a continuation of Fermi's work at the National Accelerator Laboratory. "He was devoted to the exploration of Nature. Fermi was at the foremost frontier of neutrino experiments, and it is therefore befitting that the Laboratory be named after him."
The cyclotron which began to operate at the University of Chicago in 1951 was then the world's largest. Fermi guided construction of the great technical feat. Important studies in the field of resonances emerged in the strong intellectual climate at Chicago.
Asa Newman
Asa Newman, on the staff of the NAL 15 Ft. Bubble Chamber, was an operator of the cyclotron with Mr. Fermi. "I was always amazed at his ability to talk to everyone. He would explain a problem to me in the way I needed it, then to a student on his level, and then to another physicist. He was able to communicate with all of us and would never walk away until we understood it."
Developments in neutrino theory at NAL in the 1970s, which opened the possibility of a link with the patterns of electricity, set the keynote here for the penetrating insights in research to be carried on under Fermi's name at the world's largest atomic research facility.
Source: The Village Crier Vol. 6 No. 17, May 2, 1974
| | | |
| --- | --- | --- |
| | | |
| Saundra Cox, Fermilab Chef Bill Ross and Olga Takhtamyshev sample the Russian dishes | | |
Diners at the Fermilab cafeteria on Friday will meet aromas of borscht, zharkol, blini, as well as potato and beet salad on the Festival of Nations serving line. The servings will be adaptations of recipes brought from her homeland by Mrs. Olga Takhtamyshev the wife of Soviet physicist Georgi Takhtamyshev, an experimenter in the Fermilab Internal Target Area.
Recipes for the Soviet dishes will be available in the cafeteria on Friday or from the Guest Office, CL 1W after that. Mrs. Takhtamyshev will also be at the luncheon to answer questions about preparation of the recipes. These are dishes "everyone" makes at home, she says.
Adding to the festival air of the occasion, Polley Cosgrove and Dave Ciampa will perform Russian folk dances during the lunch hour. Polley made her dance debut in the ballet, "Sleeping Beauty," eight years ago. She has performed the vigorous, gay Russian dance style since, as a pleasant variation, she says.
A new table in the Fermilab cafeteria features a colorful circular design (above), donated by A. Kuznetsov, a Soviet experimenter in the Internal Target Laboratory at Fermilab in 1972-73. The present Soviet experimenters at Fermilab recently joined in christening the table at lunch: (Clockwise from lower center) S. Mukhin, E. L. Goldwasser, G. Takhtamyshev, A. Sandach, Y. Rjabov, V. Efremenko, P. Markov, Y. Akimov, D. Jovanovic, and R. R. Wilson

Source: The Village Crier Vol. 7 No. 9, February 27, 1975
Hans Bethe, awarded the Nobel Prize in 1967 for his research on the energy production of the stars, spoke to a Fermilab audience on Wednesday, April 16, 1975. His topic -- updating a visit to Fermilab a year ago -- was "Energy Revisited."
Hans Bethe visits Fermilab
A professor at Cornell University, in 1972 Dr. Bethe chaired an academic study of U.S. energy needs for the former U.S. Atomic Energy Commission. He is frequently called on to assess U.S. energy status and demands. Dr. Robert Wilson, introducing Bethe, remarked, "It seems appropriate that the Nation turned to the man who figured out how the stars produce energy."
Dr. Bethe pointed out that the current economic recession changes the energy crisis because surpluses of gasoline, for example, have accumulated during periods of decreased consumption and of conscious consumer efforts to reduce the use of energy. When the recession is over, he said, the problem will return with the same urgency exhibited in 1974.
"The goal of energy independence in the U.S. is not luxurious or a matter of prestige, but survival," he said. "We have some reserves, but many other countries have none, and if we compete for their supplies it will only make the situation worse." Immediate conservation steps and studying other ways to save energy are imperative. But a decrease in energy consumption means a decrease in the gross national product, he said. "People are indulging in delusions if they think it won't disturb the economy."
Proper concern should be expressed about the large shift of money to Middle Eastern sources following the settlement of last year's crisis. Use of energy for an increase in food production is a must, he feels.
Bethe approves of the "good old fashioned economics" which proposes to keep oil prices high to discourage use and to encourage exploration and expansion of new sources, such as the development of oil shale. "This should have high priority," he said. Another good investment would be pumping oil out of old oil wells.
Dr. Bethe praised the Rasmussen report on nuclear reactor safety which concluded that reactor accidents might occur in 1 of 2,500 reactor use years. It is a competent study, he thinks, and has already increased safety by a factor of 2 by suggestions made by the Rasmussen group to the industry in the course of the survey. Reactor safety will continue to improve, Dr. Bethe predicted, if 1,000 reactors come into operation with improved technology. Serious consideration might be given to putting reactors underground, he observed.
Waste disposal is far less of a problem than reactor accidents, according to Hans Bethe. At the moment there are many solutions being proposed. He described one process in which liquid nuclear wastes would be solidified into grains, then imbedded in large glass rectangles which could be buried underground where radiation would be eventually absorbed.
Nuclear power involves risks, but the problems of nuclear power must not be considered in isolation. "We need power," he said. "It is the poor people who suffer most from the decline in the economy that a shortage of power would produce, and this leads to social upheavals."
Source: The Village Crier Vol. 7 No. 17, April 24, 1975
BOLSHOI BALLET VISITS FERMILAB
Nineteen members of the famed Bolshoi Ballet visited Fermilab Thursday, July 10, 1975 for a tour of the Laboratory. Nine of the artists performed four short demonstrations at a noon-hour seminar for Fermilab people.
The Ballet, on its eighth tour of the United States since 1956, played to capacity audiences at every performance in the United States. The Ballet appeared in Chicago for three performances last week. Celebrating its 200th anniversary in 1976, the Bolshoi Theater, the home of the Ballet, is considered the cultural center of Moscow.
The guests were welcomed by Robert R. Wilson, Director of the Laboratory, for what he called an artist-to-artist visit. "Indeed the science of the atom which we study here is more of an art than a science," he said.
The distinguished troupe was invited to visit Fermilab by the more than a dozen Soviet scientists now working at Fermilab. "We hope this will be the first of many such presentations of our arts," the leader of Soviet physicists' group. Dr. Serge Mukhin, commented, "because we want not only to work for science but also for cultural exchanges between our countries."
Semen Kaufman, who acted as master of ceremonies for the Bolshoi, told the audience, "The Bolshoi is always looking for new forms and structures of expression. We think the arts should reflect contemporary human beings." The visitors played to a packed house in the Fermilab auditorium.
Following their performance, the Soviet visitors toured the Fermilab accelerator before returning to Chicago.
Source: The Village Crier Vol. 7 No. 29, July 17, 1975
The first exhibition of art photography at Fermilab opened in August, 1975 in the second floor lounge of the Central Laboratory. Entitled "Two Chicago Photographers," the show displays the works of Harold Allen and Ellen Fine. The show continued through September 12th. The Fermilab community and the public to viewed the exhibition during the regular working hours of the Laboratory.
Professor Harold Alien preparing exhibition of his work
at Fermilab
Harold Allen, a native of Portland, Oregon, attended the School of The Art Institute and the School of Design in Chicago. While serving in the Air Force in Europe as a photographer he became interested in architectural photography.
Except for a six-year period when he did research in the history of architecture for the Sinclair Refining Company, he taught at the School of The Art Institute from 1948. And was named Frederick Latimer Wells Professor there in 1971.
Allen's exhibitions have included his 100-print show, "Old Buildings of Nauvoo (Illinois)" which appeared at several museums and universities. A 30-print show by Allen, "Buildings in Illinois," was circulated extensively by the Illinois Arts Council. His book, "Father Ravalli's Missions," was published in 1972. His works are found in the collection of The Art Institute of Chicago, at The Metropolitan Museum of Art, and in the picture archives of the Library of Congress.
Allen's Fermilab show includes the titles, "Old Drug Store, Bethel, Missouri," "Ships, Wiscasset, Maine," "Mormon Temple Tower, St. George, Utah," "Dome Interior, Santo Domingo, Oaxaca, Mexico," and "Warehouse Demolition, Philadelphia, Pennsylvania."
Ellen Fine, at one time a student of Harold Allen at the School of The Art Institute of Chicago, portrays photographically the widely different environments she encountered as the child of a Navy family. She also studied at the California College of Arts and Crafts and at San Diego State College.
Fine taught photography at Morton High School and Morton College in Cicero, Illinois. She also taught at the summer workshop at the Winona School of Photography, Winona, Indiana. She was a reviewer for The Professional Photographers of America. Her showings have been represented at Northwestern University, Linfield College, the University of Wisconsin, and Eastern Washington State University.
Fine's exhibition at Fermilab included "Boat - Mendocino, California," "Staircase - Terre Haute, Indiana," "Nude with Cat," "dark Street, Chicago," and "Wall of Farmhouse before Restoration - Fermilab, Batavia, Illinois."
The works of the two artists display the contrasts between the documentary possibilities which Allen captures in his renderings of unusual architecture and the form and designs which Fine filters through her camera.
Dr. Leon Lederman of Columbia University, an experimenter at Fermilab who has assisted with the arrangements for the Allen-Fine exhibition, comments in the program, "Physics is the science of observation, and probably no art form is closer to the metier of the practitioner than is photography.
"How parallel are the tasks!"
"Blend respect for meticulous technique with inspiration in order to expose a small piece of the world."
"Explain through the eye and the mind how a thing subtle but of great wonder can be revealed."
"We can thus describe equally well the discovery of the psi particle or one of the prints in this, the first exhibition of art photography at Fermilab."
"The offering is for pleasure and profit. The joy to the eye is obvious. The profit comes from the ansatz, often forgotten, that also in physics, attention to esthetics has played a pivotal role. By this reminder of the essential unity of our fascinations, we may even do better science."
Source: The Village Crier Vol. 7 No. 34, August 28, 1975
Ernest T.S. Walton
Ernest T.S. Walton, 1951 Nobel laureate, visited Fermilab last week. The Irish physicist is spending six months in the United States as a guest of North Texas State University. It was his first visit to Fermilab where the modern version of the "Cockcroft-Walton" provides the source of particles for the Fermilab accelerator system. It was the first such machine developed by Walton and John Cockcroft in the early 1930's that became the world's first particle accelerator.
At a colloquium for his Fermilab colleagues, Dr. Walton described the one hundred years of the Cavendish Laboratory at Cambridge that began under the 7th Duke of Devonshire in 1870 and has been marked by the presence of some of the greatest names in scientific history. At least 22 Cavendish scientists have been awarded Nobel prizes, he pointed out. Among these were James Clerk Maxwell, John W. S. Rayleigh, and J. J. Thompson.
Inventors of one of the first accelerators, Dr. Ernest T.S. Walton (L),
and Dr. John D. Cockcroft (R), with Lord Rutherford, at Cambridge
University in the early 1930's
Dr. Walton recalled the era of the direction of Cavendish by Lord Ernest Rutherford, particularly the seven years before 1934 when "Rutherford was at his height," according to Dr. Walton. It was Lord Rutherford's research in the early 1900's that revealed the nucleus of the atom.
"Rutherford was a man of great scientific caution," Walton recalled. "He had a great love of alpha particles. He seemed to think he had some special rights to them. It was true that they all came out at the same energy and could be counted by simple methods. I think Rutherford's character was somewhat the same as the alpha particle which always goes straight, bulldozing through matter. And so did Rutherford bulldoze through an experiment to the objective.
Rutherford's laboratory at Cambridge University in the 1930's
"Rutherford was very impatient if new results were coming; he couldn't wait," according to Dr. Walton. "He carried short blunt pencils which he frequently used to mark up preliminary data so badly that it was ruined. As a result, his underlings developed all sorts of subterfuges to keep information from him until it was ready."
Walton said that Rutherford insisted that young students get into research that was of special interest to them. It was Rutherford's encouragement that led Walton to seek a way to produce particles for research. John Cockcroft joined the project that led to the development of the important source of ionized particles.
(L-R) Lee Teng, Dr. Walton, Don Edwards following Walton's
colloquium at Fermilab
Dr. Walton toured the Fermilab facilities as the guest of Fermilab physicist Don Edwards. Stopping in the gallery of Fermilab's pre-accelerator for a photograph, he was asked to give his impression of Fermilab's addition to high energy physics facilities:
"I find it very interesting. In my mind I compare it with the early accelerator which we created at the Cavendish Laboratory. You have an impressive professionally-made machine. Ours was a crude home-made bit of equipment which we somehow managed to keep running long enough and sufficiently well to do our experiments."
Source: The Village Crier Vol. 7 No. 44, November 20, 1975
Rep. Frank Horton (L) a member of the United States Congress from Rochester, New York passed through Fermilab on a recent trip. He visited with James Sanford, Associate Director for Program Planning, and Robert Wilson, Director, before touring the facilities in the Meson Area, including the University of Rochester-Northwestern experiment.
Source: The Village Crier Vol. 8 No. 10, March 11, 1976
Darrell Drickey
The first memorial lecture in honor of the late Darrell Drickey will be held at Fermilab next week, sponsored by Universities Research Association Inc. Dr. Drickey, a physicist on the staff of Fermilab at the time of his death in December, 1974, was chairman of the Users Executive Committee. He was assistant head of the Fermilab Energy Doubler group and a collaborator on an experiment in the Meson Area.
Much of the work in arranging the memorial lectures has been led by the Fermilab Users Organization. Dr. Drickey's colleagues in the Users Organization point out his successful participation in the first scientific exchange in 1970 between the U.S.S.R. State Committee on Atomic Energy and the U.S. Atomic Energy Commission (now a part of ERDA). It was a pioneering effort in international cooperation as well as being one of the first successful measurements of the size of the pi meson, carried out by Dr. Drickey and a scientific team at the Serpukhov Laboratory. The success of that exchange has been the foundation of the collaborations at Fermilab which have been continuous since 1972.
In the prospectus for the memorial lecture, Louis N. Hand, chairman of the Users Executive Committee, states, "Many people feel that Drickey's contribution in leading a group at Serpukhov was a major pioneer effort in an area where high energy physicists can make a unique contribution due to the international character of our field. It was decided that a memorial lecture by a prominent physicist would be one way to memorialize a man whose untimely death was a great loss to the high energy physics community."
Luis Alvarez
Dr. Hand also notes, "The Users feel that Darrell Drickey generated a spirit that is still with us; we still operate from his impact. He was a very positive person and had that ability to change the attitude of the people with whom he worked. He was one of those rare persons who insisted on overcoming difficulties and this was always evident in the projects with which he was associated." A committee is being formed to plan and carry out future lectures.
The first Darrell Drickey Memorial Lecture will be held at Fermilab on Friday, May 14 at 8:30 p.m. It will coincide with the annual meeting at Fermilab of the 800-member Users Organization, May 14 and 15.
Nobel Laureate Luis Alvarez will be the first Darrell Drickey Memorial Lecturer. Title of his lecture is "Ernest Lawrence's Laboratory - Where the Big Machines Began."
Dr. Alvarez has been a physicist on the staff of the University of California at Berkeley since 1936. He received his undergraduate as well as his graduate degrees at the University of Chicago.
Dr. Alvarez has received many awards for his work, including the National Medal of Science and the Michelson award. He was the recipient of the Nobel Prize in 1968 for "decisive contributions to elementary particle physics." He was honored for "the discovery of a large number of resonance states made possible through development of the technique using hydrogen bubble chambers and data analysis."
His lecture at Fermilab deals with the stimulating atmosphere which prevailed at the Lawrence Radiation Laboratory in the 1930's under the direction of Ernest 0. Lawrence, an atmosphere he knew well as a young scientist and for nearly forty years. Writing in the book, "All in Our Time," in a chapter entitled: "Berkeley: A Lab Like No Other," Alvarez says,
"I was as much impressed by the 'atmosphere' in the Radiation Laboratory as I was by the marvelous pieces of experimental equipment that I found so fascinating. The whole 'style' of the laboratory was set by Ernest Lawrence, and one felt his presence at all times, even when he was not in the laboratory building. I am convinced that Ernest Lawrence's greatest invention was not the cyclotron, but the modern way of doing physics in cooperative teams."
Picture of neutrino interaction in the Fermilab 15-foot Bubble Chamber with heavy neonhydrogen liquid mixture taken in April, 1976. Nearly one neutrino interaction per picture is found with the current run targeting 1013 protons at 400 GeV with the wide band - two horn system. Frequently the chamber is flooded with tracks from several neutrino interactions in the same exposure.

In addition to increasing the interaction rate, the heavy neon mixture allows many of the particles from neutrino interactions to be recognized by direct inspection of the track appearance: protons, charged pions and kaons produce secondary interactions; neutral pions are evidenced by their gamma rays converting to electron pairs; muons sail right through the liquid without interacting and direct electrons or positrons from the vertex are recognized by successive kinks and associated gamma ray conversions along their tracks. A major interest in the present experiment by a Columbia University-Brookhaven Laboratory collaboration is the study of "di-lepton" events in which two muons or a muon and an electron are produced in high energy neutrino interactions.
Source: The Village Crier Vol. 8 No. 18, May 6, 1976
Monitors at Fermilab carried this message on May 14, 1976
A three-day contest between the skilled people at Fermilab and the giant machine they have built ended at 1:15 a.m. on Friday, May 14, when the Fermilab accelerator's energy was pushed for the first time to 500 billion electron volts. The epic event produced the highest energy protons ever recorded in a man-made machine and keeps the Fermilab accelerator in top position as the highest energy machine in the world. Two experiments went into action immediately to record experimental data at the extraordinary energies.
The try for the new energy level began on the afternoon of Tuesday, May 11. Since July 21, 1975 the normal operating energy level of the accelerator has been 400 BeV. A 30-minute foray to 450 BeV in 1975 and another preliminary test at 474 BeV on April 14, 1976 gave the crews of the Accelerator Division a brief but important background for the exercise, conducted during a scheduled three-day maintenance and repair period.
By 5:30 p.m. on Tuesday, the accelerator was running comfortably at 450 BeV. At 7:30 p.m. the magnet ramp (setting the stage for the beam to follow) was set at 480 BeV. It was here that the Accelerator Division's challenge began.
Tuesday evening was the night Jim Hogan's power supply experts hustled from one service building to another around the Main Ring. Keeping in constant touch with the Main Control Room by intercom, the seven-man crew adjusted, replaced, and corrected the faults that cropped up as the 60 Main Ring power supplies were pressed into the new energy mode.
Meanwhile, back in the control room, Howie Pfeffer guided and coaxed the new capacitor tree into its full-scale launching as part of the accelerator system. For months, Pfeffer and his crew had modified and rebuilt the cap tree that will keep the power supplies from sagging under the high currents necessary for 500 BeV. The striking blue and orange device is located at one side of the Master Substation, near the new transformer installed last July, more than ½ mile from the Main Control Room.
THE 3-NIGHT VIGIL
L-R) H. Edwards, J. McCarthy, &
B. Webber




J. Gannon (L) and R. Huson




Don Young (L) and P. Livdahl
WHEN IT WAS OVER
| | |
| --- | --- |
| Successful supervisors: (L-R) S. Pruss, F. Turkot, E. Bleser, H. Pfeffer, S. Ohnuma, and D. Johnson | 4 p.m. - 12 operating crew: (L-R) M. Olsen, B. Merz, C. Bottorf, L. Allen, and B. Angstadt |
| Power Supply group on duty for the three-night test: (L-R) S. Hayes, B. Bielefeldt, B. Wickenberg, S. Manthe, M. Wilks, J. Hogan and A. Salvaggio | ( L-R) W. Kissel, G. Urgan, J. Gannon, J. Bauman, A. Thomas, J. Smedinghoff, E. Macheel, J. Lackey, G. Fisk, D. Young, R. Huson, and R. Wilson |
The power supply adjustments and the cap tree observations, while intense and demanding on the crews for a time, were fruitful in the end on Tuesday night. Operation became stable enough that Experiment #321 in the Internal Target Area could turn on its equipment and record the experimental data at 450 BeV. Working alongside the machine operators, the switchyard group paved the way for the protons to be extracted from the Main Ring to the external experimental areas. Beam was seen as far as the Proton Area that night.
With the experience of the first night behind them the crews brought the accelerator on easily at 450 BeV on Wednesday at 5:00 p.m. for the next session. Within two hours a 480 ramp was running. The wrestling between people and machine went on again all night, with success just beyond their finger tips as they reached 492 BeV about 7 a.m.
Thursday morning, it was decided to modify the tune of the accelerator when the tests resumed that night. By reducing the tune of the machine, less current was required in the quadrupole magnets and it then became possible to achieve the 500 BeV level.
By midnight Thursday this new routine was stable, the machine was ready to learn the new program. At 1:30 a.m. 497 BeV was in sight. Howie Pfeffer made one final adjustment in the computerized program and at 1:51 every monitor in the Laboratory could flash a victorious 500 BeV energy!
Not content with this as the ultimate victory, the Accelerator Division announced the achievement as 0.5 TeV, the language of the future. (T is for Tera, a million-million.)
There was a short pause for champagne in the Main Control Room. Within an hour, there was concentration again to get the beam to the Neutrino Area and to the 15 ft. Bubble Chamber. Experiment #172 (a collaboration of the Universities of California, Hawaii, and Washington, and the Lawrence Berkeley Laboratory) began taking pictures in the chamber about 3:30 a.m. Prints of the experiment's test strip, showing a neutrino interaction with 500 BeV beam in a neon-hydrogen mixture, were available around the Laboratory at 9:00 a.m. Friday morning for the Annual Users Meeting.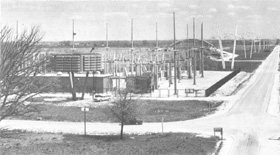 Fermilab Master Substation. Foreground, left, capacitor tree to level peak demands from accelerator at 500 BeV
The Columbia-Stony Brook collaboration (Experiment #321), in the Internal Target Area, also recorded 500 BeV data from 4:00 a.m. to 8:40 a.m. on May 14. This experimental group immediately submitted a proposal for an experiment at 1 T (1000 BeV).
The giant accelerator, once tamed and trained, ran continuously and without further complication at 500 BeV for nearly six hours.
Russ Huson, Deputy Head of the Accelerator Division, commented at the end of the mission, "Many, many people contributed to the success of achieving 500 BeV in the accelerator They can all be proud of their individual contributions as well as the performance of the machine.
"We are all particularly grateful to Howie Pfeffer for his skill and dedication in preparing the capacitor tree and the power supplies.
According to Huson, it should be possible to schedule running for experiments at 450 BeV next fall and at 500 BeV in the spring of 1977. Additional work will be carried out on the capacitor tree and in the power supplies.
| | |
| --- | --- |
| Candidate for dilepton (µ± e) event found in early pictures taken for E-172 shortly after 500 BeV beam was sent to the 15 ft. bubble chamber. The rare, exciting events may be evidence for a new quantum number or a new particle. | Experiment #321 in the Internal Target area stood by as the Accelerator Division pushed up accelerator energy, taking data on the way up, and at 500 BeV, above. |
Source: The Village Crier Vol. 8 No. 20, May 20, 1976
Robert L. Hirsch, center, was greeted by Alvin Tollestrup, Superconductor Group, on Hirsch's recent visit to the Energy Doubler facility at Fermilab. Also on hand were (L-R) Brad Bennett, Vice President of Universities Research Association Inc.; William Fowler, Assistant Head, Superconductor Group; and, at right, Norman Ramsey, president, URA.
Dr. Hirsch is the Assistant Administrator for Solar, Geothermal and Advanced Energy Systems in the Energy Research and Development Administration (ERDA). A native of Evanston, Illinois, he studied at the University of Illinois and has been associated with ERDA and its predecessor agency since 1968.
Funding of the Fermilab Doubler research, as well as the operation of the Laboratory, is under the supervision of Dr. Hirsch's division of ERDA.
Source: The Village Crier Vol. 8 No. 25, July 1, 1976
Dr. Jim Cronin put in a full day on Friday, January 14. He spent the morning in Washington, D.C. at the ceremony at which the Energy Research and Development Administration awarded its 1976 E. 0. Lawrence awards "to men and women who are not more than 45 years old... and who have made especially meritorious contributions to the development, use or control of atomic energy in all relevant sciences..."
Dr. Jim Cronin
By early afternoon he had returned to Illinois to attend an open meeting at Fermilab on the new colliding beam group which he will head, on a part time basis. He will also continue to work as an experimenter in the Proton Area, commuting from the University of Chicago where he is a professor of physics.
Dr. Cronin was born in Chicago, Illinois. He did his undergraduate study at Southern Methodist University, then attended the University of Chicago as a National Science Foundation fellow, receiving his M.S. in 1953 and a Ph.D. in 1955. He has served on the staffs of the Brookhaven National Laboratory, Princeton University, and the University of Chicago. His major research has been in the area of high energy physics where he has played a major role in exploring the basic symmetries of nature.
In 1964, Cronin, in collaboration with James Christenson, Val Fitch and Rene Turlay, conducted an experiment at the Brookhaven National Laboratory in New York which contradicted the almost universally-held belief of physicists that natural laws of physics remain unaltered in an anti-matter universe where everything is mirror-reflected and electrical charge is reversed. The experimenters' findings are considered a landmark in the study of the forces at work in the sub-atomic world of matter and anti-matter.
Since the early beginnings of the Fermilab accelerator, Cronin, with collaborators from the University of Chicago and Princeton University, have been measuring the production of particles at very high energies and large angles in Proton east. These large transverse momentum (violent) collisions are presumed to be sensitive to the internal structure of the proton. It is our hope to demonstrate that the knowledge of the proton structure, so beautifully evidenced by electron and muon scattering experiments at SLAC and FNAL can lead to understanding of the more complicated collision of one proton with another.
Much of what we have learned concerning the production of high transverse momentum hadrons and muons, and high transverse momentum pairs can be understood in terms of the proton structure. These experiments and others at FNAL are beginning to answer another question, namely; what are the forces and interactions between the constituents of the proton?
The Colliding Beams Experiments Department has been set up within the Fermilab Research Division. Cronin will serve as Department Head with Dr. James Walker as Associate Head. The Department is to be a focus for a number of activities directed toward planning for the exploitation of proton and anti-proton colliding beams in the Main Ring tunnel. The Department will be responsible for establishing the scope of the Main Ring experimental enclosures, their design specifications, and construction of the experimental facilities.
"To me the creativity lies in the work of bringing about the collisions of the two beams. Once the colliding beams are achieved it is not so difficult to conceive of how to carry out the experiments. I have always carried out physics experiments in the neat situation where the particle beam is supplied. For once in my life I would like to have the pleasure of participating in and hopefully contributing to the achievement of the situation that makes the experiments possible. My job will be mostly organizational since all the resources and talent exist at Fermilab to carry out this work. I agree with Bob Wilson who says, "If we physicists are sufficiently clever and manage to implement the colliding beams, then the physics that will result just boggles the mind."
Source: The Village Crier Vol. 9 No. 6, February 10, 1977
| | |
| --- | --- |
| | |
| At APS press conference, (L-R) R. Felst,J. Rosner, S. Glashow, J. Peoples, G. Goldhaber discuss new particles | Larry Coulson (R), Radiation Physics, escorts APS members on visit to Fermilab Cross Gallery |
The heavy migration of Fermilab professional staff to Chicago February 7-10 was due to the annual meeting of the American Physical Society being held there at the Palmer House, jointly with the American Association of Physics Teachers. Fermilab, in turn, opened its facilities for a tour by APS members on Tuesday, February 8, furthering the exchange between scientists that is the purpose of the meeting. Nearly 100 people joined that tour. Many informal tours were also arranged between professional colleagues during the week.
Nearly 600 scientific papers were presented on virtually all the major areas of physics research, application, and education in the four-day program. The results of experimental research done at Fermilab were presented by scores of scientists who have participated in the research program. Dr. John Peoples, head of the Fermilab Research Division, appeared in a symposium panel at the first session of the meeting together with Nicholas P. Samios of Brookhaven, R. Felst of DESY, Gerson Goldhaber of the Lawrence Berkeley Laboratory, and Jonathan L. Rosner, now at Princeton. Their session was titled, "The New Particles," and they described the exciting developments since 1973 in research on charmed particles. Peoples recounted the discovery of the charmed baryon at Fermilab announced last August. He also mentioned that the Saver/Doubler and colliding beam research projects at Fermilab will be important to the next generation of research.
Gerson Goldhaber of the Lawrence Berkeley Laboratory, mentor of many charm researchers, also looked to the future direction of charm. He mentioned that the PEP (Positron-Electron Project) at Stanford, with its new energy levels, may reveal other new quantum numbers like "charm."
Rosner (a frequent visitor in the Fermilab Theoretical Physics Department) said, "Still more charmed particles remain to be discovered. One of them -- a composite of the charmed quark c and the strange antiquark
-- may be just around the corner... raise the possibility that a new neutral lepton could be among the decay products of this particle, and calculate the probability of its being observed as a function of the mass of the neutral lepton. This neutral lepton, as well as a charged heavy lepton for which there now seems to be strong evidence, can be very helpful in constructing the correct 'periodic table' of the quarks and leptons."
| | | |
| --- | --- | --- |
| | | |
| Ben Lee | Charles Baltay | Steven Weinberg |
Explaining unified field theories to APS meeting
Theorist Steven Weinberg was awarded the 1977 Dannie Heineman Prize for Mathematics at the APS meeting. Weinberg read the citation to a press conference because, he said, "I am so proud of it: 'for his formulation of unified gauge theories of weak and electromagnetic interactions, and his analyses of the role of spontaneous symmetry breaking in such theories, all represented by outstanding publications in the field of Mathematical Physics.'"
Weinberg, Benjamin Lee, head of Fermilab's Theoretical Physics Department, and Charles Baltay of Columbia University, presented a symposium on the Tuesday program entitled, "Unified Gauge Theories and their Implications." Weinberg repeated his theory of the necessity for the existence of the so-called "Higgs Boson" particle in order to unify the weak and electromagnetic interactions, a theory he discussed at Fermilab a few months ago on a visit here as a guest speaker.
His theory is enhanced, he feels, by recent news from the Swiss Institute for Nuclear Research (SIN) of an experimental finding in which mu mesons decay into electrons and photons. "This has thrown the world community of theoretical physicists into a frenzy of speculation, calculation, and publication. One of the simplest and most natural possibilities is that this is another effect of the scalar particles...It remains to be seen whether these experimental results will hold up, and whether our explanation is the correct one," he said.
Dr. Lee discussed the mathematical confirmations of the Weinberg-Abdus Salam theories. Dr. Baltay disclosed his review of experimental results on weak neutral currents from several institutions in the world, as these results relate to the confirmation of the weak neutral current theories.
Photos taken at APS meeting, courtesy Dr. Gerald Present, American Institute of Physics.
Source: The Village Crier Vol. 9 No. 7, February 17, 1977
"Man overshadows the chimpanzee fantastically. But the strange dichotomy of good and evil which we find, not only in man but also in the chimp, is particularly interesting."
Man/chimp comparisons were drawn Saturday for a capacity audience at the seventh and last program in the Fermilab Bicentennial Lecture Series. Speaking was Dr. Jane Goodall, observer of wild chimps at a research center in Tanzania, East Africa, for 16 years. "In the Shadow of Man" was her topic.
Her appearance was under the auspices of the L.S.B. Leakey Foundation. The foundation's late namesake launched Dr. Goodall's career as a researcher and during her career she has documented certain behaviors, thought to be unique in man, as also being practiced by chimps.
Her slide and film lecture revealed struggles for dominance with the chimp community; group hunting and food sharing; relationships between family members; significance of aging process; and the sequence from infancy through childhood and adolescence to maturity and old age.
Her observations, the speaker said, have strengthened her conviction that understanding chimp behavior may provide important insights about the evolution of man's social behavior.
The chimp is man's closest animal relative alive today, Dr. Goodall said. "We are primates, too," she noted, citing modern man's evolution up a long ladder from monkey-like forebearers. "Our studies show the chimp is closer to man than anybody would have given him credit for 10 years ago," she said.
While acknowledging man's superior intellectual, language and creative capabilities, Dr. Goodall pointed out that man's negative and destructive tendencies also overshadow those of chimps. World War II and horrors of concentration camps were mentioned as examples.
"We are trying to shed some new light on ways which we can look into human behavior. And if we can do that, then our research will be very worthwhile," Dr. Goodall said.
Source: The Village Crier Vol. 9 No. 18, May 5, 1977
Revisiting Fermilab recently was Father Theodore Hesburgh, president of Notre Dame University. Above he is with Tim Toohig (L) and R. R. Wilson, laboratory director. Father Hesburgh served on the site selection committee in 1966 which evaluated many locations for a new accelerator laboratory in the United States.
Source: The Village Crier Vol. 9 No. 21, June 2, 1977


Fermilab Auditorium Lecture Series Presents
"CLIMATIC CHANGES AND THE WORLD FOOD AND ENERGY CRISES"
by Dr. Stephen H. Schneider
Friday, August 5, 1977 - 8:30 p.m.
Climatologist Stephen H. Schneider will be the second speaker in the 1977-78 Fermilab Science and Humanities Lecture Series. He will give a slide lecture entitled "Climatic Changes and the World Food and Energy Crises."
Dr. Schneider, 31, is a popular lecturer, active researcher and a concerned scientist.
His new book, The Genesis Strategy, deals with climate and global survival. It examines such topics as famines caused by cycles of drought and global cooling; effects of aerosols on climate; and weather as a military weapon. It also recommends a strategy to mitigate the ravages of these and other climatic problems. The book has been translated into Italian and German and is also published in paperback.
Dr. Schneider's other writings include over three dozen scientific papers, popular articles, and chapters of books. He edits Climatic Change, an interdisciplinary, international journal. Congressional committees and radio/TV interviewers have called upon him frequently to help explain climatic questions. Dr. Schneider's presentation at Fermilab will sample some of the growing public concerns regarding climate.
The Science and Humanities Lecture Series is supported in part by the Illinois Humanities Council and the National Endowment for the Humanities. The free lectures are intended to bring together science and the humanities in a way which shows their interrelationship and will make both more understandable.
The Fermilab Auditorium is located in the Central Laboratory Building visible from the Laboratory entrances off Kirk Road and on Batavia Road off Route 59, between Roosevelt and Butterfield Roads.
Admission to the lecture is free, but is by ticket only. Laboratory employees may obtain tickets starting at 8:30 a.m. Monday, July 11. Tickets will be available to the public beginning Monday, July 18th, from 8:30 a.m. to 5 p.m. weekdays. Tickets must be picked up before the night of the lecture. Please call the Guest Office of Fermilab, 840-3440, for reservations and information.
Source: The Village Crier Vol. 9 No. 26, July 7, 1977
(L -R) H. Frisch, D. Hitlin, A. Weitsch, S. Olsen and A. Brenner
talk colliding beams
"Extremely successful . . ." and "real progress was made." That's how James Walker summed up Summer Study V, a three-week seminar at Aspen, Colorado.
Walker, assistant head of Fermilab's Colliding Beams Department, headed the study. From June 27 to July 15, 45 scientists applied their collective mental muscle to one challenge: laying groundwork for colliding beam experiments set for late 1980 at Fermilab.
Why do scientists want to collide proton beams head-on? Because, Walker says, such a crash will release great energies . . . and create particles existing when the universe was born.
He compared the anticipated discoveries to viewing exotic animals in a zoo millions of years old.
J. Cronin (L) speaks during general session
To collide beams, a twin to Fermilab's existing accelerator will be built in the Energy Doubler program. Beams will be accelerated in opposite directions around the four-mile main ring until scientists determine they should collide. The energy created will be up to 50 times greater than today's 500 billion electron volt accelerator.
Besides creating new fundamental knowledge of the universe, the project will provide other benefits One will be a 50 percent cut in the cost of electrical power for running the accelerator. The savings will result from superconducting magnets being built here--utilizing supercold (minus 450 degrees zero Fahrenheit) technology being developed on-site also.
B. Schluchter (L) and M. Paul compare study notes with
J. Walker, chairman
"Summer Study '77 was felt to be particularly successful," Walker said, "because it focused exclusively on colliding beams and therefore significant progress was made in this area. We at the laboratory found it more productive because scientists' attention was geared to solving specific problems. Due to the concentrated effort, we know now much better how to assign our priorities.
"The study results will guide work to be done in the next six months to a year," Walker said. As the Energy Doubler is built, other construction will provide experimental areas and a detector facility.
1977 Summer Study marked the fifth time that scientists from Fermilab and invited scientists retired to the shadow of the Rockies to consider the world's next generation of high energy physics experiments. Previously -- in 1968, 1969, 1973, and 1976 -- summer studies were held in Aspen; the 1970 session met at Fermilab.
L . Jones (L), U. of Mich., and F. Mills, Fermilab, lead "students"
leaving Aspen conference room
This year's study group was about evenly divided between staff persons and users/invited guests. Users represented 13 institutions and laboratories from across the United States. Other participants were from ERDA, National Science Foundation, CERN (Switzerland) and Center for Nuclear Studies, Saclay, France.
Before the study, participants were provided with latest publications on the topic. Also, study members will write an estimated 100 original papers (one to five each) on the seminar. Printed proceedings of the summer session are expected in about three months.
Summer Study '77 marked the first time that colliding beams was the featured topic. Last year, this topic shared the agenda with a general consideration of questions facing the high energy physics community.
The study was divided into two one-and-one-half week periods. About half the participants attended for a period; half for both periods.
Subtopics addressed at the conference were:
Use of the main ring accelerator beam for beam storage;
Methods to collide the main ring and Energy Doubler beams;
Detection schemes to study collisions;
Anti-proton production and cooling; and
General design concepts for experimental areas at interaction regions.
Discussion leaders, assigned to topics as listed above, were Alvin Tollestrup, Fermilab; R. Diebold, Argonne National Laboratory; D. Hitlin, Stanford Linear Accelerator; P. McIntyre, Harvard University; and D. Ayres, ANL.
J. Walker, study chairman, conducts general session
Leaders opened each period with 60-minute presentations introducing their assigned topics and identifying areas for further study. The five subgroups then held daily work sessions. Results of their deliberations were reported by group leaders at 4 p.m. coffee and thought-sessions.
To conclude study periods, leaders presented hour-long summaries of work achieved. "These were at a particularly high level," Walker said. "They were quite outstanding reviews of the proceedings, remembered for their comprehensiveness, clarity and identification of major achievements and outlining of work remaining."
Highlighting the session was a roundtable discussion on colliding beam physics to be done at Fermilab. Joining three experimental physicists was a trio of theorists invited from the Aspen Center for Physics. The latter were Jon Rosner, University of Minnesota; Dick Slansky, Los Alamos Scientific Laboratory; and Lincoln Wolfenstein, Carnegie-Mellon University. The experimentalists were: James Cronin (Fermilab); Carlo Rubbia (Harvard); and Bob Diebold (ANL). A very lively discussion was held and helped to identify some of the physics potential of colliding beams at Fermilab.
(Photos ... courtesy P. Turkot)
Source: The Village Crier Vol. 9 No. 36, September 15, 1977
A panel discussion, "How America and Americans are Perceived -- How the Image is Made," will be held in the Fermilab auditorium Friday, October 28, at 8 p.m. The program will bring together two foreign journalists, their American counterparts and former reporters now on the University of Chicago faculty.
Panelists will be:
-- Jurek Martin, U.S. Editor, The Financial Times (London)
-- Hans Tutsch, chief U.S. Correspondent, Neue Zurcher Zeitung (Switzerland)
-- Milt Freudenheim, former Paris bureau chief, The Chicago Daily News
-- Edward W. Rosenheim, Jr., Professor of English/Director, National Humanities Institute, University of Chicago
-- Robert E. Streeter, Edward L. Ryerson Distinguished Service Professor of English, University of Chicago
Professor Robert Z. Aliber, professor of International Economics and Finance in the Graduate School of Business, University of Chicago, will serve as moderator.
| | | |
| --- | --- | --- |
| | | |
| M. Freudenheim | Robert E. Streeter | Edward Rosenheim |
The program is sponsored by the university's Center for Policy Study. The first in a 1977-78 series, the Fermilab session will open five meetings on separate but related topics on four dates in the greater Chicago area. "Journalists View the United States" is the theme. Funding is by the Illinois Humanities Council and the National Endowment for the Humanities.
The first three programs will be panel discussions; the fourth and fifth topics will be presented as day-long seminars/workshops for Midwest journalists and humanists.
The series has several aims. They include: to examine the image abroad of America and the Midwest; to examine the role and responsibility of the press in shaping that image; and to consider ways that the press, through the image it helps to create, influences public opinion and public policy decisions abroad and at home.
Audience participation will be encouraged. Further discussion between panelists and the audience will continue with a coffee hour after the session.
Source: The Village Crier Vol. 9 No. 41, October 20, 1977
Chinese physicists pose for photo taken at the Institute of High Energy Physics, Peking. L-R are: Mao Chen-lung, Hsiao Yi-hsuan, Sui Ching-yi, Shen Pao-hua, Chung Hui (Group Deputy Head), Hsu Chien-ming, Hsieh Chia-lin (Group Head), Lee Teng (Fermilab), Wang Shu-hung, Chang Wen-yu, Pan Hui-pao, Chen Sen-yu
Ten accelerator specialists from the People's Republic of China have begun several months of studies at Fermilab.
The study group's visit is a cooperative venture between Fermilab and the Institute of High Energy Physics of the Chinese Academy of Sciences, and is a result of a personal invitation extended by Dr. R.R. Wilson, Director of Fermilab, to Dr. Chang Wen-yu, Director of the Institute, during Wilson's visit to Peking in 1974.
On Arbor Day Chinese visitors helped Fermilab employees
plant trees.
The People's Republic of China plans to build a proton accelerator of 30 to 50 billion electron volts (BeV) energy. The accelerator, to be located near Peking, would enable Chinese scientists to conduct studies in high energy physics.
Leading the visitors is Professor Hsieh Chia-lin, Chief of the Accelerator Division at the Institute. He is a specialist in accelerator physics and design.
Other members of the team are: Dr. Chung Hui, group deputy head and chief of Scientific Research Division at the Institute, an electrical machinery specialist;Dr. Sui Ching-yi, chief engineer, Peking Broadcasting Equipment factory, a high frequency system specialist; Professor Hsu Chien-ming, Institute professor, also a specialist in accelerator physics and design; and Dr. Mao Chen-lung, engineer, the First Ministry of Machine-Building, a magnets system specialist.
Peoples Republic of China flag joins Central Laboratory
gallery of flags
Also, Dr. Pan Hui-pao, Institute engineer, a specialist in mechanical and vacuum engineering; Dr. Shen Pao-Hua, Institute engineer, an electrical power supply specialist; Dr. Wang Shu-hung, Institute scientific worker, a linear accelerator theory specialist; Dr. Hsiao Yi-hsuan, Institute scientific worker, a specialist in particle injection, ejection and transport systems; and Dr. Chen Sen-yu, Institute scientific worker, a specialist in magnet lattice design.
During their stay, the Chinese team will be housed in on-site accommodations for visiting experimenters at Fermilab.
The visit was arranged by Dr. Lee Teng, a native of China and associate head for advanced projects. Accelerator Division, at Fermilab. With his family Teng returned to his homeland for the first time in 30 years last October. During his month-long visit he was a guest at a reception by Vice-Premier Teng Hsiao-ping and held accelerator design/ technology discussions with Chinese physicists and engineers. Dr. Teng also lectured at Nanking University and the Nuclear Physics Institute at Shanghai.
Two groups of Chinese scientists visited Fermilab previously. In December, 1972, a delegation spent a day at Fermilab during an international tour; a second group spent three days at Fermilab in June, 1973, on a five-week tour of major U.S. high energy physics facilities.
Source: FermiNews Vol. 1 No. 4, July 1, 1978