Farm History - Whose Houses are They?
Return to Farm History and Site Map
WHOSE HOUSES ARE THEY?
Clustered around Sauk Circle on the south side of the Fermilab Village are 22 of the buildings that existed on the site before the Laboratory began construction in 1969. The farm houses were moved from outlying parcels on the Fermilab site to their present location. The exteriors of the historic homes preserve an architectural style typical of midwest farm homes of the late 19th and early 20th century. The homes are now in various stages of remodeling into living quarters for visiting experimenters.
For the information of the many people who ask, "Whose houses are they?" the Village Crier shows here the houses at their present location on Sauk Circle and a list of the former owners and locations: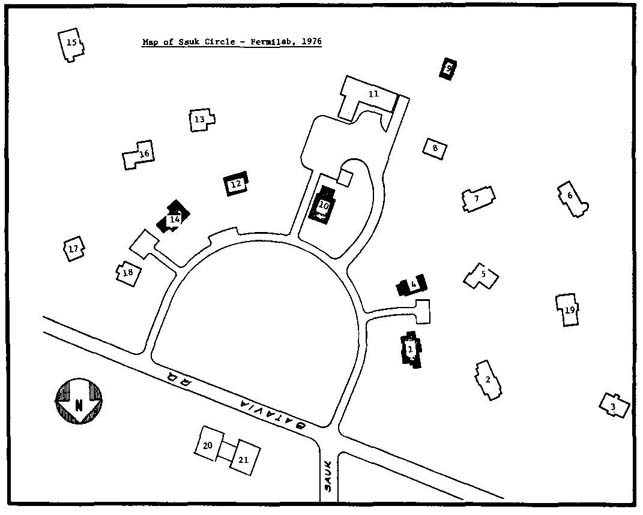 | | | |
| --- | --- | --- |
| Sauk Circle Map Location | Former Owner | Former Location |
| 1 | Mrs. John B. Heitkotter | Batavia Road |
| 2 | Lisle Hawks | Wilson Street |
| 3 | Leon Feldott | Batavia Road |
| 4 | Peter Baumann | Kautz Road |
| 5 | Roger Bartelt | Batavia Road |
| 6 | Mrs. Frank J. Malone | Wilson Street |
| 7 | Eric Schwahn | Giese Road |
| 8 | Arthur Schimelpfenig | Giese Road |
| 9 | Chris and Eddie Feldott | Feldott Road |
| 10 | Mrs. Herbert Anderson | Existing location |
| 11 | Mrs. Herbert Anderson barn | Existing location |
| 12 | G. H. Holter | Feldott & Holter Road |
| 13 | Arthur Schimelpfenig | Giese Road |
| 14 | Gilbert Barkei | Wilson Road |
| 15 | W. R. Hoffman | Kautz Road |
| 16 | Eric Schwahn | Giese Road |
| 17 | Mrs. Samuel Gregory | Wilson Road |
| 18 | Charles Turner | Batavia Road |
| 19 | H. A. Phillips | Batavia Road |
| Aspen East 20 | Robert Wolsfeld | Shabbona |
| Aspen East 21 | Robert D. Kuhn | Existing location |
Source: The Village Crier Vol. 8 No. 13, April 1, 1976