June 15, 1967: The Lab's Beginning
(You can also view the original June 13, 2014 Fermilab Today article)
Forty-seven years ago this Sunday (June 15, 1967), the lab's earliest employees and a few employees from the Atomic Energy Commission and DUSAF (the architectural and engineering firm responsible for much of Fermilab's construction) moved into the lab's first offices. These offices were located on the tenth floor of the newly-built Oak Brook Executive Plaza (1301 W. 22nd St., Oak Brook, Illinois). At the time, there was only one tower at Oak Brook Executive Plaza, and there were far fewer buildings near it than there are today, giving these pioneers an unobstructed view of the Illinois farmland. The building was selected for its convenient location between the site chosen for the National Accelerator Laboratory at Weston, Illinois and O'Hare International Airport. Conditions were Spartan; for its first few weeks of operation, the Oak Brook office lacked furniture and office partitions.
According to the June 16, 1977 issue of the Village Crier commemorating the lab's tenth anniversary, the lab employees present on that Thursday morning were Frank T. Cole, Tom L. Collins, Cy Curtis, Don R. Getz, Edwin L. Goldwasser, J. Luniak, Al Maschke, Don Poillon, A. Linc Read, Robert R. Wilson, and Don Young. AEC employees present were Fred Mattmueller, Larry Mohr, and Minerva Sanders. DUSAF employees present were William Alexander, M. Warner, and E. Parke Rohrer. William Brobeck, a consulting engineer, was also present.
You can read more about the laboratory's early days in the Universities Research Association annual report for 1967.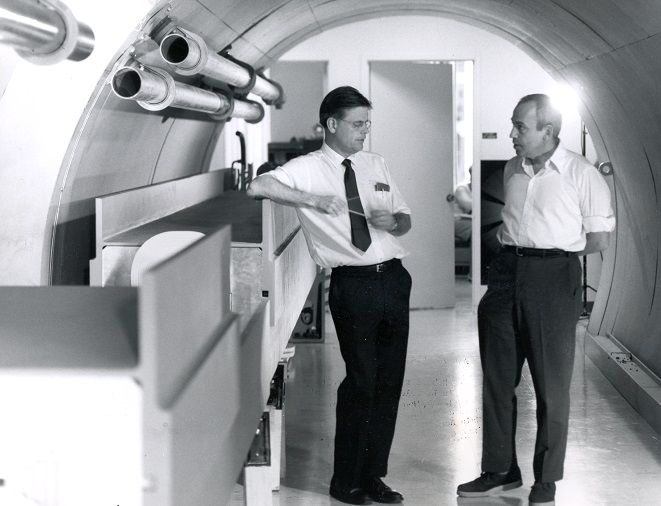 Lab Director Robert R. Wilson and Deputy Director Edwin L. Goldwasser stand in a model of the Main Ring Tunnel in the lab's offices at Oak Brook Executive Plaza. (Argonne National Laboratory photograph 760-216) (1 of 2)